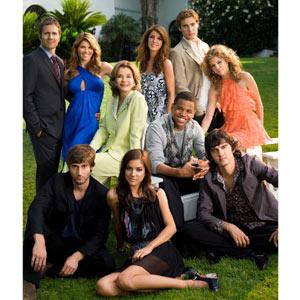 ---

90210, the spin-off of the iconic '90s teendrama, is now seen exclusively on Star World and Channel [V]. When 90210made its U.S. debut, it drew record ratings for The CW Network. The two-hourkick-off ranks as the highest-rated series premiere in the history of The CW.
The 2008 version of 90210 looks at life through theeyes of the Wilson family. Harry (Rob Estes, Melrose Place) and his wifeDebbie (Lori Loughlin, Full House), relocate their family from Kansas toLos Angeles to look after Harry's feisty, ailing mother (Jessica Walter, ArrestedDevelopment). Joining them are their two teenage children, Annie (ShenaeGrimes, Degrassi: The Next Generation) and their adopted son, Dixon(Tristan Wilds, The Wire).
On their first day at West Beverly Hills High, Annie andDixon meet their classy classmates: the spoiled rich girl Naomi (AnnaLynneMcCord, Nip/Tuck), her boyfriend, the hunky jock Ethan (Dustin Milligan,Runaway), school newspaper editor Navid (Michael Steger, The CheetahGirls: One World) and the rebel, Erin (Jessica Stroup, Reaper). For newcomers Annie and Dixon, theawkwardness of being the new kids is made worse by the fact that their dad isthe new principal at West Beverly High.
90210 also marked the much-anticipated reunion offormer Beverly Hills, 90210 stars Jennie Garth and Shannen Doherty. "Iam definitely excited to be back playing my character," says Jennie, whoreprises her role as Kelly Taylor, now a single mum working as a guidancecounselor at West Beverly High. "I realized that so many people are devoted tothe show and I am striving to give something back to the old audience."
See new faces, reunite with old friends and prepare forthe scandalous lives of 90210 residents when this new TV drama airs everyTuesday on Star World at 9 pm and Channel [V] at 10 pm.