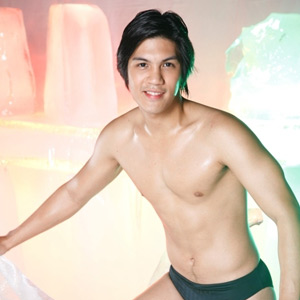 ---

ABS-CBN's newest reality show, Pinoy Fear Factor:Argentina, South America, opened its second week with a flurry ofhigh-octane real-life action and drama starring its 11 participantes.


With Gail Nicolas already eliminated from the show, sheleaves behind her roommate Savanah Lamsen. In last night's episode, November17, it was shown that former teenybopper LJ Moreno has developed a high schoolcrush on an Argentine production assistant named Maxi. "Mahilig ako sababy-face," revealed LJ, who tripped and blushed when Maxi talked to herafter her blindfold was removed. In fact, Phoemela Baranda revealed that herroommate is so inspired that LJ took a long time to put on makeup so she couldattract the attention of her crush.
Host Ryan Agoncillo revealed that the 11 participantes willhave to face their fear of heights for the challenge called "Coglarse comoTarzan." In this stunt, they all have to swing from one rope to another inorder to reach the other platform. The ropes are suspended at a height of 15meters.
ADVERTISEMENT - CONTINUE READING BELOW
Maxi even cheered for the former actress while she did thestunt. "She's strong. Come on, LJ," he said while observing her. LJwas just inches away from the other platform but she let go since she was sotired already. "I could have pushed myself more to get to the end pero angsakit na ng arms ko," she said.
After a disappointing first stunt last week, the kargador RJCalipus Jr. mustered all his strength to finish the stunt for his family'ssake.
Marion, who confessed having a fear of heights, showed thathe can conquer his fears by using focus, speed and litheness. Marion finishedat the top four and avoided elimination with Manuel, Savanah and Phoemela.
Jommy, the alaskador of the group, is in peligro (danger)after falling in the stunt. As punishment, Jommy has to dance bare-naked infront of everybody back in El Campo Miedo. It will be shown on ABS-CBN tonight, November 18.
ADVERTISEMENT - CONTINUE READING BELOW
Wearing his infamous trunks, Jommy danced and enjoyed hisperformance, which didn't quite sit well with his co-participantes. "Siyatalaga 'yung gusto naming matanggal, and I'm not speaking for myself,"said LJ of Jommy.
Ledge dancer Savanah also became more open about her likingfor Jose Sarasola. "Akin lang siya!" she said after watching JannaDomniguez dance sexily with the aspiring chef.
The competition is about to get tougher as the participantesget closer to the Segunda Ronda Eliminacion, with challenges like eatingsheep brain and hanging from a moving helicopter.
Pinoy Fear Factor, hosted by Ryan Agoncillo, airsfrom Monday to Friday on ABS-CBN right after I Love Betty La Fea.