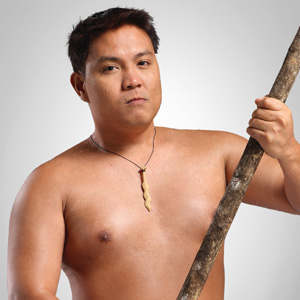 ---

After losing a crucial Immunity Challenge, castaway Marlon Carmen is desperate to stay longer in Survivor Philippines.

Since almost all the Jarakay members of Chalam were already booted off the island, Marlon is certain that his days on the island are numbered. Adding fuel to the fire is fellow tribe member Charisse Yacapin who confirmed to Marlon that the Naak group is definitely planning to take him out of the game.

Marlon's cooking skills and knowledge of camp life used to be his biggest asset that kept him secure in the tribe. He was also good at mind games that he was even able to convince loyal Naak members Kaye Alipio and Cris Cartagenas to vote off tribe stalwart Kiko Rustia from the island.

As the days wore on, however, his fellow tribe members slowly realized that his dirty tactics and mind games have started to outweigh his use in the camp.

Because of this, Marlon is willing to do anything and everything to survive even if it means he might jeopardize the health of his fellow tribe members. In a fit of desperation, Marlon hid the flint so that the tribe cannot make fire for cooking.

But Marlon has more schemes up his sleeve as he continues to hope that they would work to his favor.

How far will he go to claim the P3 million grand prize and to be the first Pinoy Sole Survivor?
ADVERTISEMENT - CONTINUE READING BELOW
Watch Survivor Philippines weeknights on GMA-7 right after La Lola.