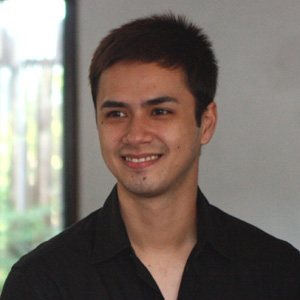 ---

When Paolo Contissigned an exclusive contract with GMA-7, he could no longer continue shootingthe second season of Midnight DJ, TV5's weekly suspense-horroranthology.

As a result, Oyo Sotto was chosen to take over the role of a radio jockpossessing a third eye. However, unlike his predecessor Patrick (played byPaolo), Samboy does not have the innate talent of communicating with spirits.Instead, he fools everyone into thinking that he does have a third eye so thathe could penetrate Midnight DJ, the hit radio program of the fictional radiostation LXFM.
Oyo Sotto told PEP(Philippine Entertainment Portal) about his role as Samboy in TV5's MidnightDJ, which airs on TV5 every Saturday from 7 to 8 p.m.


"Si Paolo, nunghuling episode, namatay siya at naging multo siya. Pag pine-playback nila yungtape, may naririnig silang boses. So nagpa-audition sila ng maraming tao theneventually, narinig nila yung boses ko at ka-boses ko yung nasa tape. Gusto korin mag-Midnight DJ pero wala akong third eye. Con artist ako dito sa MidnightDJ kasi gusto ko lang talaga maging DJ.
"Si Bangs [Garcia],ang love interest ko dito, siya talaga ang merong third eye at habang tumatakboang story, nahahawa na ako sa kanya. Unti-unti nang nade-develop ang third eyeko."
Oyo will also starin the upcoming Metro Manila Film Fest entry, Iskul Bukol 20 Years After(Adventures of Vic Ungasis and the Escalera Brothers), as the son of VicSotto.


SYNOPSIS. Midnight DJ is the name of a hitradio program that airs on LXFM or "New City Radio." The new soul behindMidnight DJ is Samboy--a street-smart, lovable everyman with a shady past and aknack for native folklore, played by Oyo Sotto.
ADVERTISEMENT - CONTINUE READING BELOW
Completing the teamare Samantha (Bangs Garcia) his sweet yet spunky researcher, Bodjie (JoaquiTupas) the sidekick radio technician, Trixie (Jenny Miller) LXFM owner andstation manager, and Andrea (Desiree Del Valle) the newly promoted programmingdirector.
Together the teamforges on to bridge the living and the dead, taking on unresolved deaths,ghosts and ghouls as they bring life to the stories that haunt the night.
The pilot episodetakes place six months after the death of Patrick, the previous Midnight DJ.LXFM ratings have gone down, and Trixie knows that the only way to bring themup is to revive their top rated program.
Andrea, stillheartbroken over the loss of Midnight DJ's previous host, has just been promotedfrom producer to programming director. She is faced with the daunting task offilling in the shoes of Patrick.
To do this, shecalls for auditions to find the new Midnight DJ.
With sidekick Bodjieand newly hired researcher, Samantha, the team sets off with their applicantsfor the Midnight DJ host. They tap Andy (Baron Geisler), Samboy (OyoSotto) and Shugo (Paolo Paraiso) to solve the orphanage massacre haunting.
Who will earn theright to take on unresolved deaths, monsters & ghosts, and the stories thatbring life to the spirits that haunt the night?
The all-new second season ofMidnight DJ premieres November 22 moving up to Saturday nights from 7-8 p.m.on TV5.