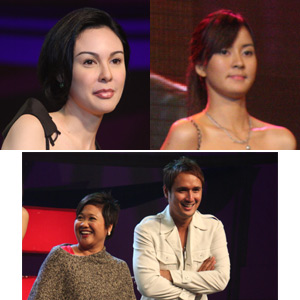 ---

TV5 beefs up its programming with the launch of secondseason shows featuring innovative, relevant, and spirited content. As the TVstation airs new shows and continues showing other programs, PEP (PhilippineEntertainment Portal) asked TV5 CEO Christopher Sy for an exclusive interviewregarding the status of the station.
During the second season launch-slash-Christmas part of TVin Makati City, Mr. Sy gladly told PEP that three months after beingreintroduced to Filipino viewers, TV5 is "just getting started."


PEP: How important are TV ratings to you when it comes to businessdecisions?
Mr. Sy: "Of course, the ratings are very importantbut I think what we really have in mind, is to try to give viewers the mostentertaining shows. When we focus, we really think what we think the viewerswould want to watch and the ratings naman generally will follow. It's not namanpuro ratings but siyempre it's about the viewers. If you place the viewersfirst, the ratings hopefully will follow naman."
ADVERTISEMENT - CONTINUE READING BELOW
PEP: How do you choose which shows will continue andwhich shows get cancelled?
Mr. Sy: "We really wanna run by things season to beable to refresh everything. Certain things, certain shows were renewed rightaway for a second season because we wanted to show some continuity. And some,we put on hold muna for one season....they might come back again in the future.Siyempre, we wanted to introduce a lot of new things to keep the stationlooking fresh din."
PEP: One of the biggest shows on TV5 will beGretchen's new game show...
Mr. Sy: Yeah, definitely. We're very excited that'sgoing to be a real, a big program for us. Gretchen would be hosting our gameshow called You & Me Against the World. That's going to be afabulous game show with a lot of fabulous prizes. Gretchen is giving P1 millionaway, guaranteed every week. So I think it's gonna be quite something tosee."
ADVERTISEMENT - CONTINUE READING BELOW
PEP: Why is the title like that?
Mr. Sy: You & Me Against the World, well,when you see the show, it's the object of the game. There's two contestants,that's the You and Me. And they're basically trying to guess what the World[composed of 48 people] will answer to the question. Huhulaan ng You and Mekung ano yung most popular."


The head of the rebranded TV station then expressed hisoptimism about the future growth of the company.
"In TV, it's always an investment that could not berecuperated just overnight. Pero I think we're definitely taken the first steptowards achieving that. As you know, we've only been around for three months.It's too early pa pero very encouraging naman yung start namin dahil nga nag-improvenaman talaga yung ratings. I think we're gaining some momentum in terms ofgetting our station out there. So, by far, marami pang kailangang gawin, malayopa sa gusto naming mangyari. But you know, at the same time, we are gratefulespecially to the viewers and to all the supporters especially from the pressas well that have supported us in our first couple of months in TV5."
ADVERTISEMENT - CONTINUE READING BELOW
Here is the schedule of TV5 primetime shows for the secondseason:
Monday
8 p.m. Ha-Ha Hayophosted by Eugene Domingo shows funny videos from the animal kingdom
8:30 p.m. OMG hosted by IyaVillania dares celebrities and socialites to take up challenges andexperience "heightened reality TV" as they take on dirty jobs such ascollecting garbage and cleaning pig pens
11:30 p.m. The Weakend News hosted by Ramon Bautista delivers currentevents with a flair for comedy

Tuesday

8 p.m. Kiddie Kwela hosted by Bayani Agbayanicaptures children's unguarded reactions on camera
8:30 p.m. Baikingu is a Japanese game show hosted by Brod Pete, GabeMercado, and Richard del Rosario. Contestants of all shapes and sizes will gothrough an outrageous obstacle course.
11:30 p.m. I Am Ninoy hosted by Bianca Gonzalesencourages young people to follow the example of the martyred Ninoy Aquino. "Wefeature modern-day heroes—ordinary people who do good for others," explainsBianca.

Thursday

8 p.m. Rescue Mission hosted by TJ Trinidadshows disaster footage collected here and abroad.
8:30 p.m. Pulis, Pulis hosted by Martin Andanar is a reality policecrime show.

Friday

8 p.m. Video Zonkers - Get a load of the craziest footage ever recorded at
8:30p.m. Lokomoko - Alex Gonzaga, Randolf Stalamakey, and KimGantioqui's show moves to an earlier slot
11:30 p.m. Flo is TV5's new teen magazine show

Saturday

6 p.m. Lipgloss continues to entertain viewers by chronicling the livesof Linden High teens
ADVERTISEMENT - CONTINUE READING BELOW
7 p.m. Midnight DJ introduces a new character namedSamboy (played by Oyo Sotto) in replacement of Paolo Contis
8 p.m. Talentadong Pinoy hosted by Ryan Agoncillocontinues to showcase astounding performances from singers, dancers, actors,musicians and comedians as well as contortionists.

Sunday

6 p.m. Everybody Hapi is a sitcom starring John Estrada, Eugene Domingo,Alex Gonzaga, Matt Evans, and Roxanne Guinoo.

7 p.m. You & Me Against the World -See how the fabulous Gretchen Barretto will give away P1M plus other excitingand glamorous prizes every week.

8 p.m. Shall We Dance hosted by Lucy Torres-Gomez reinvents itself but keeps its effectiv roots. SWD spices up its ballroom moves with modern dances and performances.
TV5 is also be offering On-Air promos such as the KalogKa-Load wherein viewers can win more than P10,000 load daily and P5,000cash. Online promos are also underwayin the TV5 website, www.tv5.com.ph, where lucky site visitors get the chance towin event or program related prizes such as tickets to the upcoming NickelodeonKids' Choice Awards.
ADVERTISEMENT - CONTINUE READING BELOW