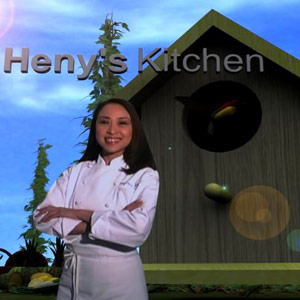 ---

A new lifestyle and cooking show that takes "kitchen" out of the box--that's Heny's Kitchen, the 30-minute culinary travelogue hosted by culinary guru, pastry chef, author, and columnist, Chef Heny Sison. Heny's Kitchen premiered last Sunday, November 23, 8:30 am, on QTV 11.

After a two-year hiatus from television, seasoned chef-host Heny finds herself in a lifestyle-cooking show as she travels to different places in search for food finds and regional delicacies that are gustatory delights.

"This new show gives me the chance to be what I really am, adventurous and hungry for new discoveries," said Chef Heny.

Heny's Kitchen aims to connect to foodies and to viewers who are passionate about food. The program will feature how a particular dish is prepared up north, down south, or any way under the sun. Chef Heny will temporarily leave the confines of the home kitchen to backpack to different places. As she enters every kitchen she visits, she will treat it as her own and still come up with personal recipes that are made with love--just like in her own kitchen.

While the show's primary aim is to pursue effective culinary instruction and education, Heny's Kitchen also aims to be a tool for female viewers who are thinking of ways to maximize the family income, without compromising the quality.

What can viewers expect in this brand new culinary travelogue? "As a general rule, we want to be different. We want to be ever changing. And this is the reason my producer Maricar Erese and I hit it off well because we have the same wavelength. I'd like Heny's Kitchen to be able to offer more suprises, from one episode to the next."


Heny's Kitchen airs every Sunday, 8:30 am, on Q Channel 11, sister station of GMA-7.


ADVERTISEMENT - CONTINUE READING BELOW