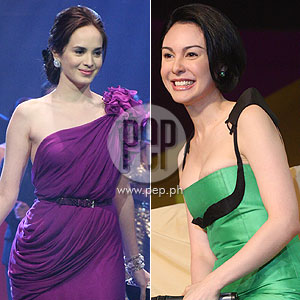 ---

Gretchen Barretto tries her hand at hosting via her TV5 gameshow, You & Me Against the World. During the November 23 pilotepisode, she was joined by celebrity contestants John Estrada and Lucy Torres.
In this game show, there will be P1 million every week inGretchen's Bank. All participants will be requested to register through text aseither a studio contestant or as a home partner, wherein 50 people from thepool of applicants will be selected every week to comprise "theWorld."
The "World" will be asked a trivia question tofilter out two contestants who will play as "You" and "Me."The "World" is asked survey-like questions, with "You" and"Me" simply having to guess what the majority of the "World's''answer could be. During the show, a home partner is selected and given thechance to win whatever is left of the P1 million in Gretchen's Bank.
La Greta is also expected to give away glamorous andluxurious items-signature bags, jewelries, and other precious items.
ADVERTISEMENT - CONTINUE READING BELOW
During the show, Gretchen had fun interacting with herguests. In one question, she asked the contestants, "Nagkulang ang utensils saisang party, ano ang pipiliin mo? Spoon or fork?" John chose spoon and Gretchenpointed out, "Bakit spoon ang pinili mo? Pwede namang pag-soup, ganito na lang[she demonstrated sipping soup from a bowl]."
The actor was hit by a realization and he nervously said,"Parang mali na naman ako." Gretchen responded by saying, "Di bale, parangsanay na kami sa mali mo."
After each question, Gretchen asks the contestants, "Fightna ba kayo?" while holding up her fist in the air. When they say "Fight," theTV host then declares, "World, give me your answer!"
In the first round, John ended up having P90,000 in hismoney ladder while Lucy had P100,000, allowing her to move on to the nextround.
They then showed a clip of Lucy's chosen beneficiary, ThePhilippine National Red Cross. "Dahil gusto ko ring makatulong ang mamigay ngpera, tatapatan ko ang amount na makukuha mo," promised Gretchen to Lucy.
ADVERTISEMENT - CONTINUE READING BELOW
During the jackpot round, the contestant must answer fivetrivia questions. If s/he fails to give the correct answer, s/he will only getto take home half of his/her winnings. The contestant is allowed One Ask(wherein s/he can ask Gretchen or ask the World for the answer) and One Save.

Lucy was able to answer the first two questions correctly but she was stumpedby the third one so her winnings were cut in half. Still, Lucy was able to takehome Bulgari items from the TV host.
Before Lucy answered the second trivia question, a Butlercame in bringing various Bulgari items and Gretchen said that if Lucy gave awrong answer, the contestant would be able to take home the luxurious items.The TV host then asked, "Sinong Pinay ang unang nanalo sa international beautycontest?"
Lucy chose Gemma Cruz-Araneta instead of Gloria Diaz and shewas correct. "I wagered this but I still want to give this to Lucy," saidGretchen.


ADVERTISEMENT - CONTINUE READING BELOW
The first celebrity contestant of You & Me Againstthe World won P95,000 for her chosen charity, The Philippine National RedCross. Gretchen generously doubled that amount so the PNRC received P190,000from the TV5 show.

The P1 million in Gretchen's Bank is now left with P810,000 and this amount wasdivided among the 48 members of The World. Each of them were able to take homeP16,875.
You & Me Against the World airs on TV5 every Sunday at 7 p.m. and encores ataround midnight.