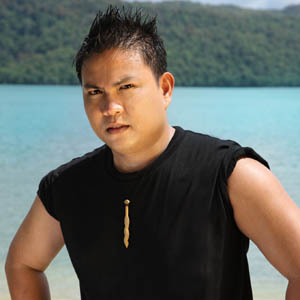 ---
Dubbed as the "bad boy of Philippine primetime television,"waiter Marlon Carmen finally got the boot in the November 24 episode of GMA-7 reality show SurvivorPhilippines.
With only seven castaways left, all the tribemates ofMarlon in Chalam voted against him, while he voted against company driver CrisCartagenas. With his ouster, Marlon became the 12th person to bevoted out from Survivor Philippines and he also became the fourth member of the Jury; along with Jace Flores, Kiko Rustia, and Vern Domingo.

Before the Tribal Council, Marlon already sensed that hewould be voted off next. As a last-ditch effort to save himself from the game, hethreatened to hide the flint and kill the fire if his tribemates vote him out.
During the Tribal Council, host Paolo Bediones read Marlon's letter. His tribemates looked shocked and disgusted by Marlon's initial plan.
In the end, Marlon had a change of heart and did not continue his devious plan.

But just like most of the villains in movies and teledramas,Marlon would not go down without giving a last fight. He said that he hasanother plan that he refused to tell to anyone.
"Meron pa akong isangnakakatakot kung itutuloy ko...ako lang ang nakakaalam... Itong larong ito,napaka-brutal, e."
"It's for you guys to know and for me to find out," Marlonsaid about his "secret weapon."
But his tribemates had enough of Marlon so they voted him off,including his former Jarakay tribemate Charisse Yacapin. Charisse, who was holdingthe "black pearl," automatically had one vote even before the voting started. But she was able tosurvive elimination, thanks to Marlon's ouster.
Before leaving the Tribal Council, Marlon was asked to givethe "white pearl"—which replaced the "black pearl"—to one of the remainingcastaways. This "white pearl" will serve as a protection to the one holding it.Meaning, a vote will be subtracted to the holder of the "white pearl" in thenext Tribal Council.
ADVERTISEMENT - CONTINUE READING BELOW
Marlon decided to give the "white pearl" to Charisse, who is now the only remaining member of the old Jarakay tribe.
In the last Immunity challenge, varsity player JC Tiusecowon so he was safe from the Tribal Council. Aside from winning theImmunity, JC was able to see the full video message of his girlfriend and got afive-minute call to her.
JC picked Cris and Marlon when Paolo asked him to choose two of his tribemates, who will also get to see the fullvideo message of their loved ones. Marlon cried like a baby upon seeing the video message of his girlfriend.
Cris, on the other hand, won last week's Reward Challenge(spear throwing). As the winner of the challenge, Cris got to decide which of histribemates will eat a specific menu. Naturally, Cris chose the mostdelicious—steak and rice with a bottle of softdrinks—while he gave Marlon atamarind with a glass of softdrink, and Charisse a plate of salt with softdrink.
Other highlights from last week's episode:
Cris and Kaye plotted against Rob Sy and Zita Ortiga. Crissuggested to Kaye to make up a story that he is courting her in an effort to confuse the other castaways.
Marlon and Cris had an argument over the "Jarakay soup."Marlon wanted to add another cup of salt water to the halaan soup, but Cris stopped him. After that, a verbal tussle ensued.
At the Tribal Council, last week's castoff Vern Domingo, wholooked gorgeous in her outfit, made a mind-boggling entrance when she posed infront of the remaining castaways. Rob literally dropped from his chair uponseeing Vern while the other castaways looked confused. Back at the camp, the castawaysmade fun of Vern's behavior.
Meanwhile, in tonight's episode, Rob won the RewardChallenge. His prize is 50,000 pesos cash that will be sent to his family.Nanay Zita came so close to winning, but she was not able to count correctly the fivenecklaces that were needed to complete the challenge.
ADVERTISEMENT - CONTINUE READING BELOW
As the latest castaway, Marlon is scheduled to make hisround of interviews on different GMA-7 shows this week. Knowing that he is "the mosthated" castaway of Survivor Philippines, it is interesting to find out howpeople will react to him and how well he will handle the anticipated animosity towards him.