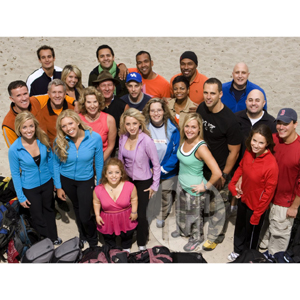 ---
They're back in the game! The most lovable, despicable, controversial and favorite Amazing Racers from previous seasons reunite in The Amazing Race: All-Stars. These teams are set to trek around the world yet again traveling more than 45,000 miles over 5 continents in 28 days and 11 teams all fight to the finish for their second shot at the million-dollar prize.
Officially known as the The Amazing Race 11, this reality TV show makes an explosive comeback with 11 all-star teams from seven of its ten seasons. From among the 200 or so previous contestants, executive producer Bertram Van Munster says, "It was very hard to pick favorites." Producers chose partly "in terms of where their life went, since they left the show," says Van Munster. "They're not necessarily the winners, but character-wise, they're all-stars in our book."
Of all The Amazing Race: All-Starsteams, only Uchenna and Joyce Agu of Season 7 were able to win the million-dollar prize. The other teams include: height-challenged Charla Faddoul and cousin Mirna Hindoyan; Season 1's "Team Guido," Joe Baldassare and Bill Bartek; Survivors-turned-married couple-turned-reality-TV stars Rob and Amber Mariano; and Season 1's amiable, bald best friends, Kevin O' Connor and Drew Feinberg. Also repeating The Amazing Race are two teams from the Season 10: coal miner David Conley and wife Mary, and beauty queens Dustin Seltzer and Kandice Pelletier.
Also vying for the big bucks are: Eric Sanchez and Danielle Turner, who competed on separate teams in Season 9 but later became a couple; Oswald Mendez and Danny Jimenez (dubbed as Season 2's "Team Cha-Cha"); John Pietanza and Jill Aquilino, Season 3's now-split couple; and Teri and Ian Pollack, the oldest couple to finish as runners-up (she's now 53, he's 54), also from Season 3.
The All-Star teams have to endure "extreme cold to extreme heat—from a desert in northern Chile to borderline South Pole in Antarctica," says producer Van Munster. "There is a lot of friction right off the bat between teams. I'm confident we laid something on the table that will be very unexpected, and story-wise, there were plenty of fireworks."
ADVERTISEMENT - CONTINUE READING BELOW
Don't miss your favorite team start competing against each other on the fastest game show on earth—The Amazing Race: All-Stars.
The pilot episode airs on Monday, February 19, 9:00 a.m. via satellite and 8:00 p.m. for the primetime telecast on Studio 23—Kabarkada Mo!