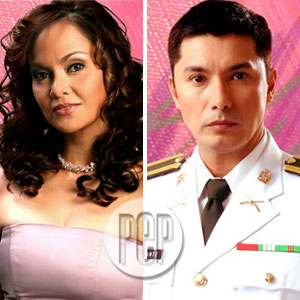 ---
One woman dies, and another woman from his past enters the life of Col. Leo Alicante (Albert Martinez). From then on, the lives of everyone in his family will never be the same again in ABS-CBN's newest teleserye, Maria Flordeluna.
Picking up from last week's heartbreaking first week of episodes, this Monday, February 19, finds the Alicante family coping from the shocking death of Elvira (Vina Morales). But as he begins his quest to find his wife's killer, Leo also has to deal with the fact that both Flordeluna (Eliza Pineda) and Reneboy (Nash Aguas) need a mother. And he realizes that he—as a lifelong military man—is hardly equipped to deal with his children.
Added to that is the fact that Reneboy misses his mother and blames himself for Elvira's death. Flordeluna, meanwhile, is just as distraught, but determined to keep the family together.
Enter Jo Espero (Eula Valdes), the kindly owner of the tutorial center Reneboy attends. But the wounds from the past—and Leo's neglect—are still fresh for Jo. How will they react to seeing each other again? And will Flordeluna and Reneboy accept her, knowing that Jo was once Leo's great love?
Join Maria Flordeluna as she struggles to keep her family together all this week only on ABS-CBN Primetime Bida.