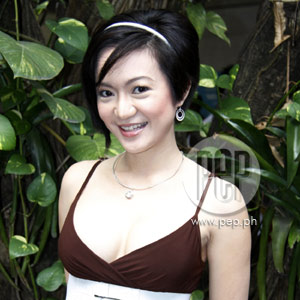 ---

Comedienne Kitkat will make a timely comeback to The Singing Bee this Sunday night, December 21.
Afterher ex-boyfriend allegedly took off with her savings, Kitkat willreturn to the program where she was a former defending champion for achance to win over P1 million.
Kitkatwon P80,000 in her first outing on The Singing Bee. However, she saideven that prize was taken by her ex as well. "I have filed a caseagainst him. I really want him to be punished," she said.
Althoughback to her usual perky self, the former Iisa Pa Lamang actress saidshe's probably going to have a lonely and busy Christmas. "I have towork hard. I still need to pay debts he left with me," she explained.
Kitkat faces tough competition as co-sing-along masters Janna Dominguez and 1 vs 100 millionaire Pooh will be playing too.
Janna,a participante in Pinoy Fear Factor, said that presence of mind willbe the key in the game. "Sometimes you know the song but when youpanic, you forget about the lyrics," she said.
Thesexy 18-year old also appears in Eva Fonda, where she plays a maidwith a liking for her employer's son Val, played by Baron Geisler.
Whenasked to comment about Baron's possible court case, Janna expressedconcern for her co-star. "Baron is like my mentor in acting. He's alsoa family friend. I'm really sad to learn that the issue is still notover. He will always have my support," she said.
Meanwhile,Pooh is determined to win in another ABS-CBN game show so he can startanother project for the kids. The P2 million he won from 1 vs 100went to the construction of a school in his hometown in Samar.
ADVERTISEMENT - CONTINUE READING BELOW
Thefunny trio will go against fellow comics Bayani Agbayani, Vice Gandaand Long Mejia. Before them, the boys from the movie Baler, MarkBautista, Bernard Palanca, and Ryan Eigenmann, will engage in a musicalwarfare also on the The Singing Bee on Saturday, December 20.


PEP ID. Meanwhile,two lucky PEPsters can get the chance to watch The Singing Bee inABS-CBN by joining the "PEP Insider's Dream: Panalo Bawat Pilipinopromo." To join, just register and login to http://www.pep.ph/pepid. Promo will run until January 15, 2009.