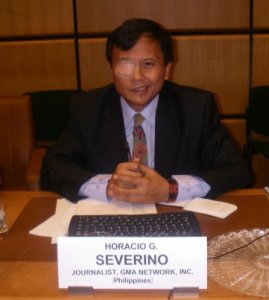 ---

I-Witness viewers often ask whatever happened to some of the more intriguing characters they saw on the country's longest running documentary program.

In its yearend episode, Howie Severino and his intrepid team revisit several of these characters, underdogs all. One of them is literally a dog, Habagat, a talented canine made famous by his even more talented master, an illiterate old man who makes a living on the streets of Manila. He does shows with Habagat for passersby who stop dead in their tracks to watch a dog that can count, add, and high-five with anyone who will part with a coin.

Howie also gets a poignant update on old friend Perry Berry, a charismatic dwarf who left his job as a preacher and is now searching for a job. He manages to find a gig as a human washing machine on a comedy show. But his biggest pride is still his youngest child Josephine who has not let her dwarfism stop her from becoming class president.

Perhaps the most uplifting story is about the blind twins whom Howie met last year at a pre-school for the blind. They are now in grade one in a regular school where all of their classmates are sighted. They somehow manage to fit in, and even excel, despite being at a deep disadvantage.

In a surprise twist, Howie describes his own experience this year with disability and underdoggism—he suffered a temporary facial paralysis that distorted his face, slurred his speech, made food fall out of his mouth, and forced him to wear an eye patch for weeks.

Although he is nearly back to normal, the experience left him with a fresh appreciation for the gift of physical normalcy and an even deeper respect for those who are able to overcome permanent disadvantage to pursue their dreams.

Howie's documentary airs Monday late night over GMA-7's I-Witness.
ADVERTISEMENT - CONTINUE READING BELOW