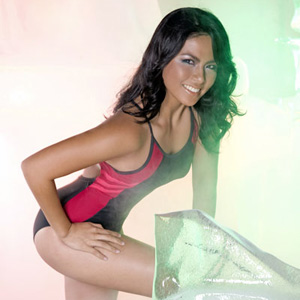 ---

Viewers can relive the grueling, stomach-churning, and harrowing stunts in Pinoy Fear Factor: Argentina South America, every Saturday on Studio 23. Last night, December 27, fans of ABS-CBN's reality show were treated to hilarious replays and comedic analyses of the highlights of last season's first five elimination rounds.

The reality game show is usually hosted by Ryan Agoncillo but for the special edition, it was voiced over by comedian Marc Logan.

First to be run over on this hilarious retrospect were the participantes who had to tap their balancing skills as they rolled logs in a river. This first stunt not only displayed the contestants' physical skills but also their outrageous bathing suits: Savanah Lamsen who wore a sparkling green bikini while Jommy Teotico opted to wear his blue and white striped boy-leg trunks.

A stunning revelation during these series of flashbacks was the LJ Moreno and boy-next-door Maxi fairy tale. Apparently, this previously-heartbroken Filipina pre-school teacher was smitten by the Argentinian crew member of the Fear Factor team. Maxi who, despite his obvious incapability to pronounce her name correctly (El-Jee!), was chosen by Ryan Agoncillo to be her incentive in finishing the second task: the urban style Tarzan swing, with Maxi at the finish line.

Having missed Filipino fare since they first stepped on Argentinean soil, the participants were treated to a gag-inducing Argentinian breakfast of sheep's eyes and brains. Each of them were to eat a plateful, and none were allowed to throw up until ALL of the participants had finished their task. Viewers could either pity the participants' plight, or laugh at the various mind tricks and techniques that each contestant used in order to either push their opponents to the brink of throwing up, or to simply concentrate and finish the disgusting task at hand. At the end of it all, even the men were caught sticking their fingers into their throats in hopes of purging the breakfast they had just ingested.

And what's a Fear Factor show without a helicopter-hanging stunt, one in which participants could either be seen in their most macho, or were forced to curl up like babies with stomach cramps, just to hang on for dear life—and the grand prize of P50,000! In this stunt, the first macho man to go home would be Ram Sagad, but it was the veterinarian, Elmer Felix, who was caught on-cam practically dancing left and right while hanging on the helicopter.

The third stunt, collecting yellow rubber rings in a tankful of water, seemed easy enough—until Ryan revealed that dozens of snakes would be swimming with the participantes. This elicited unexpected shrieks and shudders from even the bravest of the lot, but it turned out that aspiring chef Jose Sarasola was at the receiving end of the snake bites! He was bitten three times, proof maybe that he had in him a sort of unforgettable, reptilian appeal.

In the Cuarta Ronda de Eliminacion, a stunt that involved different-level beams hanging from a special Paolini crane, struggling businessman Manuel Chua was able to complete the stunt with a record time of 1:50 seconds. As the high-beam balancing stuntman avoided the next stunt by gaining immunity, his co-competitors cringe in disgust as they are forced into a special task of transferring Argentine cockroaches from one bin to another—using only their mouths. Que horror!

In the Quinta Ronda de Eliminacion, participants were asked to jump off another Paolini crane, and considering that they had just kissed those sweet Argentine cockroaches from the previous round, this would be a pretty easy stunt...but it was not. Various cameras focused on the hilarious landings of each participant as they jumped from the top of the crane onto a huge hanging net across from it. In the end, Marion dela Cruz, who had the most difficult time completing the jump, had to face the consequence: wearing a bikini as he served dinner to his fellow participantes!

Watch Pinoy Fear Factor: Argentina, South America when it airs Mondays to Fridays on ABS-CBN, after Eva Fonda. Catch the weekly highlights on PFF: Special Edition on Studio 23. The stunts of the participantes will resume this Thursday, January 1, 2009.
ADVERTISEMENT - CONTINUE READING BELOW