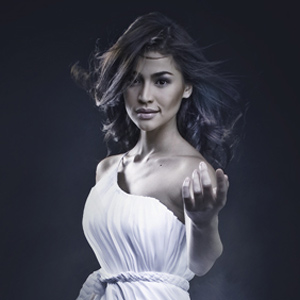 ---

Anne Curtis was recently named Best Actressduring the 34th Metro Manila Film Festival for starring in the historical film Baler. She recently revealed that herprimetime show Dyosa is about to cometo an end. This ABS-CBN fantaserye features the life of Josephine Cruz a.k.aDyosa (Anne Curtis). She is a young girl who discovers that she is actually a goddesswith three personas: Dyosa Tierra (Goddess of the Earth), Dyosa Cielo (Goddessof the Heavens), and Dyosa Agua (Goddess of the Seas).

She is fated to be the "Takda" (destined one) who will restorebalance to the world. However, she was reluctant to accept her fate, promptingher to initially turn down the magical crown that was offered to her. Littledid Dyosa know that turning down this tiara would later cause bad karma forher.

In a previous episode, Dyosa was stabbed by Tadaklan (Carlos Morales) when sheattempted to save the body of Venus (Joseph Andre Garcia). She became too weakand is said to be lying in her deathbed already.

But the Prince of Kasamian, a beast called Adonis (Sam Milby) desperately wantsto save her since he is deeply in love with Dyosa. He resumes his Kasamian half-goat,half-human identity so he could sacrifice his horns for her. Mars (ZanjoeMarudo) helped Adonis get closer to his beloved Dyosa as she lay on herdeathbed. Adonis cut off his own horns and poured the blood on Dyosa. She was revivedbut she did not learn that it was Adonis who saved her life.

Meanwhile, Diane (Nikki Bacolod) becomes the ruler of Kasamian and she unleashesher fury on the mortal world. The reign of fire prompts Dyosa to protect humanswith her powers. The goddess transforms into Dyosa Tierra and defeats Diana. Dyosareturns to the world of the gods to accept the Tiara, which symbolizes that sheis the ultimate ruler of the world. However, the coronation ceremony turned outto be a disaster since Dyosa was transformed into an ugly creature. It was thenrevealed that Dyosa cannot become the Takda because she had fallen in love witha Kasamian, in the person of Adonis.

Kulas (Luis Manzano) is arrested for being mistaken for a killer. Meanwhile, Dyosais banished in a sand-filled place called "Libingan ng Kawalan" where Sinukuanis also located.

Find out how Dyosa will be able to escape the isolated place. Can Adonis saveher again or is he still too weak to save even himself? How can Dyosa resumeher original form? Will she still be acknowledged as the Takda or has she lostthat chance forever?

Find out during the last two weeks of Dyosa,airing weeknights on ABS-CBN's Primetime Bida.
ADVERTISEMENT - CONTINUE READING BELOW