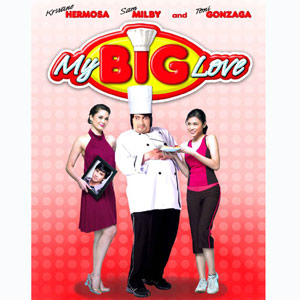 ---

Cinema One begins 2009 with a big bang (literally!) when it encores the Star Cinema movie My Big Love. This romantic comedy will air on Sunday Cine Premiere this Sunday, January 11, at 8 pm.

Starring the first love triangle of Sam Milby, Kristine Hermosa and Toni Gonzaga, this romantic melodrama with bouts of comedy is directed by Jade Castro with a screenplay by Michiko Yamamoto (Ang Pagdadalaga ni Maximo Oliveros) and Ted Boborol (D' Lucky Ones). This movie was the blockbuster opening salvo of Star Cinema for 2008. My Big Love also stars Ricardo Cepeda, Marissa Sanchez, Janus del Prado, Pinoy Big Brother Teen Edition alumnus Fred Payawan with the special participation of seasoned actress Ms. Sandy Andolong.

My Big Love tells the intertwining of a relationship stemming from food and exercise. In order to get Niña, a very beautiful style columnist (Kristine Hermosa), an overweight chef named Macky (Sam Milby) hires a personal trainer Aira (Toni Gonzaga) to help him lose weight. This is after experiencing embarrassment and humiliation when he finally reveals his identity after secretly leaving irresistible pastries and flowers several times in front of Niña's condominium door. Along with the progress of Macky's training session with Aira, they begin to form a bond that slowly leads to affection. But just when they were getting too close for comfort, circumstances also lead to their separation.


When they meet again after a year, much has changed. Aira now runs her own gym, Macky is a famous restaurateur and a sought-after bachelor who's already in great shape and...engaged. Both are reluctant to go back memory lane of what should or could have been. But if something's still there, it's just not over until it's over. A story that reflects that love can come in all shapes and sizes, My Big Love is sure to make Sunday a big holiday!

Don't miss the encore of My Big Love on Cinema One's Sunday Cine Premiere on January 11 at 8:00 pm. Available on SkyCableGold, SkyCable Silver and other quality cable operators nationwide.
ADVERTISEMENT - CONTINUE READING BELOW