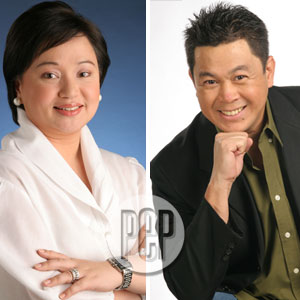 ---
Two new shows from Solar Entertainment—to be aired on RPN-9 this March—were introduced to the press last February 15 at the Artes Café in Sgt. Esguerra, QC.
Showbiz Ka! is a nightly showbiz talk show hosted by Pat-P Daza, the eldest daughter of editor-journalist Julie Yap-Daza. The 30-minute live program will tackle the meatiest and freshest local celebrity news and rumors. There will also be a celebrity guest who will meet face-to-face with showbiz reporters, and together with the TV host, will squeeze out and clarify issues about him or her.
As Ms. Pat-P puts it, "This is like See-True (a popular talk show in the late '70s hosted by the late Inday Badiday) tweaked for the modern times. But the setting will be totally different. The good thing also about the show, we're in a neutral station. Let's say, may ipo-promote na movie ang Dos, since hindi sila puwede sa GMA-7, they are very much welcome sa Showbiz Ka!"
Ms. Pat-P is also excited about the segment "Nasaan na si..." wherein she will trace a celebrity who has been absent in the circuit for quite a while. "I also wonder what happened to our celebrities before, kaya hahanapin namin sila," said Ms. Pat-P.
Showbiz Ka! will premiere on March 5 (8 p.m.) and will air from Monday to Friday.
SABI NI NANAY. For reality show enthusiasts, Sabi Ni Nanay is a new treat. Hosted by comedian Dennis Padilla, the show emulates a real-life Filipino courtship practice wherein hopeful suitors are grilled by their in-laws, especially the mother of the girl, in order to determine the suitability of the suitor. It's a dating game show with a novel twist and unique perspective.
Dennis explained the show's concept. "May three candidates or "searchees" that will follow the tasks of the nanay. Let's say, pinaglaba sila, sasabihin ng nanay sa kanyang anak na si searchee A ang pinaka-okay ang ginawa. Ang role ko, I would contradict 'yung sinabi ni nanay. It's up for the guy or the girl mag-decide kung paniniwalaan niya ako or susundin niya ang nanay niya. And we're talking of real moms here. 'Yung nanay talaga ng contestant ang nandoon. Kaya nga Sabi ni Nanay."
ADVERTISEMENT - CONTINUE READING BELOW
The lucky couple will win an all-expense dream date. A first in Philippine television, Sabi Ni Nanay is a dating game show done in "meet-the-parents" fashion and all the challenges are real and exhilarating.
This reality-based one-hour long TV show about real life entertainment will be shown every Friday and begins on March 9.