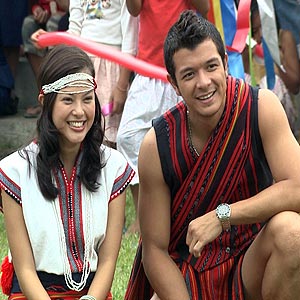 ---

If you're looking for entertaining videos to watch duringyour free time, these DVDs will come in handy. They are now available in recordbars here in the Philippines as well as abroad.
Kahit Isang Saglit on DVD

ABS-CBN collaborated with a foreign production outfit, Double Vision Malaysia,in bringing together Asian heartthrob Jericho Rosales and one of the brightestyoung superstars in Malaysian TV and in the Asian modeling circuit, Carmen Soo,in one Kapamilya project.
The primetime soap opera first aired on Channel 2 lastSeptember 15, 2008 and ended by December 12. It was first directed by the lateGilbert Perez but Direk Jerry Sineneng helmed the project when Manong Gilbertpassed away last July. The title of the said TV program serves also as atribute to Manong since his first movie under Star Cinema also had Kahit Isang Saglit as its title.
Jericho and Carmen play star-crossed lovers in this soapopera that transcends culture, class and everything in between. Rocky (Jericho)is in pursuit of justice for his father's death while Garie (Carmen) is insearch of her long-lost father. In their search, they found each other.

They are supported by respected and veteran stars such as Christopher De leon,Albert Martinez, Cristine Reyes, Dick Israel, Malou de Guzman, Isabel Rivas, WilmaDoesnt, Empoy, and Malaysian stars Louisa Chong, Soosan Hoh and Awal Ashaar.

Reminisce about the love story of two people with different cultural roots andsocial status as they defy all odds in the name of love. According to a sourcefrom Star Home Video, Kahit Isang Saglit DVDs (Volumes 1-3) haveachieved impressive sales just two weeks after its release.

PBA games on DVD


Catch theseexciting games as Star Home Video releases the first three DVDs of some of thebest PBA games. These collectibles are now availableworldwide.

Barangay Ginebra Kings VS Air 21Express
Program Description: Sports DVD

The PBAFiesta Cup 2008 Conference highlights a cutthroat competition between theBarangay Ginebra Kings and the players of Air 21 Express to win the title of"PBA Fiesta Cup 2008 Champions."

Watch as the dynamic trio of Air 21Express: Wynne Arboleda, Homer Se, and Arwind Santos fight fiercely with theknights of Barangay Ginebra Kings, Marc Caguioa, Jayjay Helterbrand, and RonaldTubid.

A jam-packed audience population ofover 22,000 people witnessed the Kings' domination, the highest paying crowdattendance at the Araneta Coliseum since the Crispa-Toyota days.

Sta. Lucia Realtors VS Tender JuicyPurefoods Giants
Program Description: Sports DVD

The Philippine Cup 2007-2008 is an epicbattle between the Sta. Lucia Realtors versus Purefoods Tender Juicy Giants.Both teams showcase their offensive and defensive brilliancy in the concludingGame 7 of the Championship series.

Witness how Dennis Espino the"Power Man" of Sta. Lucia Realtors triumphed against the strong forceof "King James" Yap of Purefoods Tender Juicy Giants.

Watch how the Sta. Lucia Realtorsconquered the PBA Philippine Cup 2007-2008 Finals.

Ginebra VS San Miguel Beer
Program Description: Sports DVD

The sibling enmity between Ginebra SanMiguel and San Miguel Beerman is evidently seen in their jaw dropping and fastpace basketball battle, which even resulted to a double overtime series in the PBA 1996 3rd Conference Semis.

Experience again the exhilarating gameof Ginebra's Bal David, Vince Hizon, and Pido Jarencio versus Lamont Strothers,Allan Caidic, and Nelson Asaytono-considered to be the veteran players of SanMiguel Beer.



ADVERTISEMENT - CONTINUE READING BELOW