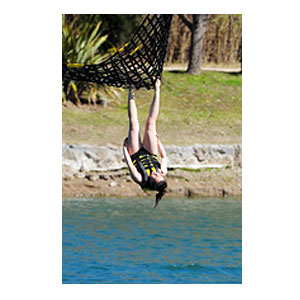 ---

The January 12 episode of Pinoy Fear Factor: Argentina,South America was a cliffhanger—literally.

Viewers could only watch in horror as Janna Dominguez clung for dear lifeduring the first stunt of Ronda Sin Eliminación 2 (Non-elimination Round 2).The six remaining participantes had to traverse a net hanging under a movinghelicopter. They had to get back inside the helicopter and press the button tostop the clock.

When it was Janna's turn to do the stunt, she was able to reach the middle partof the net. While she was hanging upside down, her foot got caught in oneportion of the net and she struggled desperately to untangle herself. Afterbeing suspended in the air for some time, Janna got tired and let her head andarms drop downward.

An Argentinian staff member onboard a jet ski and attempts to free her from thenet. All the while, Janna is still suspended from the net with only one footsupporting her entire body weight. It takes some time for the Argentinian staffto untangle her foot completely. The helicopter hovers noisily over the lakeand Janna's head is submerged for a few seconds underneath the water as thecrew help free her.

Finally, she drops into the water and she floats back up because of her lifevest. As soon as she is onboard a lifeboat, a teary-eyed Janna said, "Ang sakitng paa ko pero pinilit ko pa rin abutin yung lambat kahit isang paa na lang angnakasabit."


She felt bad about the incident and later added: "Naiyak akohindi dahil sa sakit kung hindi dahil hindi ko nagawa ang stunt. Wala akongpakialam sa paa ko!"

Pinoy Fear Factor host Ryan Agoncillo told the rest of theparticipantes, "Malaya kayong pumili kung gusto n'yong umatras sa hamon.
"Mahigpit ang laban dito sa Fear Factor pero una parin ang inaalala ang inyong kaligtasan. I-injectionan si Janna para sapagpahupa ng maga ng kanyang paan. Dadalhin siya sa ospital para i-Xray. Walangpilitin dito sa Fear Factor."

According to a doctor, Janna could have suffered from strained muscles and/ortorn ligaments.
ADVERTISEMENT - CONTINUE READING BELOW
Ryan then asked RJ Calipus and Savanah Lamsen if they were still willing to trythe helicopter stunt. RJ agreed to go first but he fell down almostimmediately.
On the second stunt of the non-elimination round, the participantes held theirbreath inside a container filled with milk. Watch for the next challenge, whenthe Argentine crew panics for the first time after a participante almostfigured in a freak accident in the "Car Container Re-Entry" stunt.
Pinoy Fear Factor: Argentina, South America
" airs Monday to Fridayafter
Eva Fonda
on ABS-CBN. Catch the highlights every Saturday at 7p.m. on Studio 23.