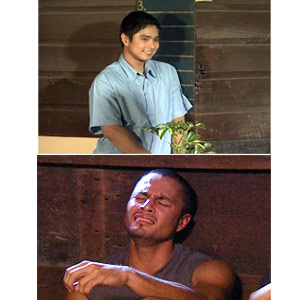 ---

The January 17 episode of Maalaala Mo Kaya will feature two of the country's hottest hunks, Derek Ramsay and "Indie Prince" Coco Martin. The two will share the limelight as they portray an unlikely friendship between a man with a scarred past and a homosexual out to prove his worth.


Billy (Coco Martin) is a homosexual whogrew up hating his sexuality until he met Richard (Derek Ramsay). It was Billy whohelped Richard get accepted in a boarding house. Richard was attractive butmysterious. Initially, Billy prevented himself from being attracted to Richard.The two became friends but one time, Richard seduced Billy, thinking that itwas the payment for Billy's kindness to him. However, Billy's temper flared up ashe pointed out that he had genuine feelings for Richard. The new tenant realizedthat Billy was different from other homosexuals he had met before. Eventually, themysterious man opened up his dark past to Billy.
Richard was a rape victim of his own closet gay father when he was young, andhad hated homosexuals ever since. His real intention of seducing Billy was totake revenge on him, whom he sees as a shadow of his own father. He stayed inthe boarding house because he found his father in that town after severalyears. Can Richard find it in his heart to forgive his own father? Will helearn to accept and love Billy?
Maalaala Mo Kaya
is hosted by Charo Santos-Concio.