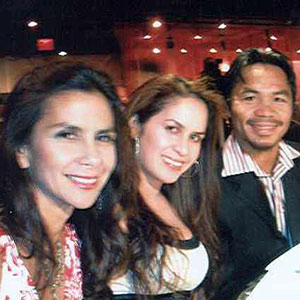 ---

Manny "Pacman" Pacquiao recallshis humble beginnings from being a mere pandesal vendor to a multi-millionaireduring the January 6 episode of The Correspondents. The documentarytitled "Kamao" traced the boxing career of Manny, then known as Kid Kulapu whenhe started boxing at the age of 12 years old.

ABS-CBN Senior Sports Correspondent Dyan Castillejo was able to conductan exclusive interview with the Pambansang Kamao during a victory party thrownfor him by Chavit Singson last December 22.

After almost five years of covering the bouts of the prized boxer, Dyan's team(composed of her cameramen Val Cuenca and Rene Casibang) has created a "bond"with the Pacquiao camp. When Dyan informed Manny about The Correspondentsdocumentary she was doing on him, he invited the reporter to interview him atthe event held at in anexclusive subdivision in Quezon City.

According to a source from ABS-CBN, the team of The Correspondents waitedfor two hours for Manny to arrive at the venue. When the boxing champ arrived,he spent an hour mingling with guests before sitting down with Dyan and hercrew to conduct the interview.


"Theinterview lasted for just 35 minutes, we don't really need three hours," saysthe source who is in direct communication with the persons who shot thedocumentary.

The documentary "Kamao" became controversial since the said interview was conducted during a party, thisearned the ire of Manny's guests who had to wait before they could talk to the world-famous boxer.


HUMBLE BEGINNINGS. EmmanuelDapidran Pacquiao was born on December 17, 1978 in Kibawe, Bukidnon, Mindanao.Now more popularly known as Manny "Pacman" Pacquiao, he currently resides inGeneral Santos City, South Cotabato.
Manny reveals that he came from animpoverished family that sometimes did not have enough money to put food on thetable. At a young age, he and his three siblings had to work in order tosurvive.

"Sabi ko, 'Ma, hihinto na lang ako ng boxing para makatulong sa inyo.' Nagtindaako ng donut, pandesal para may mabigay ako sa Mama ko [Nanay Dionisia]. Alammo, Dyan, kapag may sobra kaming pera bumibili kami ng bawang at nire-repacknamin yan para ibenta sa mga tindahan.

There was even one time when they did not have enough rice to feed all of themso they decided to cook it as lugaw so all them could have a share.
ADVERTISEMENT - CONTINUE READING BELOW
Manny also admitted that in termsof formal education, he was able to reach Grade 6. "Gustong-gusto kong mag-aralkasi, di naman sa pagmamayabang, pero may alam din tayo ng konti. Ang problemalang, nung bata ako walang pera ang mga magulang ko na pag-aralin ako."

MANILA-BOUND. When he was 14 years old, Manny left his family withoutasking for his parents' permission. "Pagsakay ko ng barko Dyan, parang gustokong bumalik. Umandar ng 200 meters yung barko...siyempre bata ako, wala akongalam sa Maynila. Iyak ako Dyan, parang gusto kong tumalon sa dagat at bumalikna lang ako."

When he arrived in the city, Manny did well in the boxing arena and it was onlyduring his 12th boxing match that he first tasted defeat. In the defunct show Blowby Blow, it was shown how Manny was beaten by Rustico Torrecampo. "Alam mo,talagang naghinto ako ng ilang buwan. Pumunta ako ng Laguna, nagtrabaho ako saconstruction, yung taga masa na lang. Nag stop ako ng mga tatlo o apat nabuwan."


However,he missed the challenge presented by the boxing ring so he returned to thesport, more determined than ever to work harder for his dreams. "Hinahanap ngkatawan ko yung boxing. Siguro aral lang sa akin yun [defeat] para magsikapako."

His big break came on June 23, 2001 when he grabbed the title of IBF SuperBantamweight champion from African boxer Benedict Ledwaba. Since then, hisboxing career began to flourish. He was recognized all over the world when heoverpowered other renowned names in the world of boxing such as Erik Morales,Marco Antonio Barrera, Juan Manuel Marquez, David Diaz, and most recently,Oscar de la Hoya.
Manny is the first Filipinoboxer to win four world titles in four different weight divisions but hecredits this success to Him. "Without God, hindi ako naging ganito. Paranggustong ipaalala sa kin na kaya ako naging successful sa buhay ko ay dahil saMahal na Panginoon."
ADVERTISEMENT - CONTINUE READING BELOW

BILLIONAIRE BOXER. During the flight home back from Las Vegaswhere Manny fought with Oscar dela Hoya, Dyan candidly asked Manny for hisearnings from the boxing match. The Pambansang Kamao merely hid his face behinda pillow and refused to answer.

Based on computations done by The Correspondents, they estimate thatManny has earned around $33 million from his battles since 2003. This amountincludes the $15 million that he reportedly earned from his fight with theGolden Boy. Aside from these, he is also earning from the products that he isendorsing as well as the TV rights for the screening of his fights in TV,cinemas, bars, and restaurants.

Sports writer Quinito Henson also did his own computation and said, "[Manny]has already accumulated I would say, 1.5 billion pesos. I would think thatthere is no other Filipino billionaire athlete na Pilipino."
CANCER ADVOCACY. Manny has made it a point to give back tohis community. "Ang pangarap ko sa boxing, nakamit ko na. Ang hinihiling kongayon ay yung gamitin ako ng Panginoon na makatulong naman ako sa ibang tao."
This year, he's planning to establish a center forcancer patients. "Ngayon ang dami nang nagkakasakit ng cancer kaya naisip ko namagtayo ng oncology center," reveals Manny.
The young boxer from Gen San has certainly come a long way.
With reports from Ilene May Buitizon