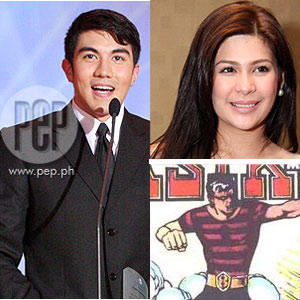 ---

After introducing the fiery Dragonna (played by Shaina Magdayao) to the viewing public, another superhero will be appearing in ABS-CBN's Mars Ravelo's Komiks Presents.

TV host-actor Luis Manzano will don a tight-fitting striped muscle shirt and a belt bearing the letter B when he transforms into Flash Bomba. This newest character has large hands and large feet and these extremities provide him with supernatural abilities.

Flash Bomba can generate "thunderclaps" using his large hands and his huge feet enable him to walk up walls. He can mystically summon "devil horses" to create a stampede. He also possesses superhuman strength

Luis Manzano's character is the last of the Ravelo superheroes that will comprise the Isang Lakas super team, slated to appear this 2009 on the Kapamilya Network's Primetime Bida.

Aside from Flash Bomba (Luis), viewers can look forward to seeing the Pinoy version of Justice League comprised of Lastikman (Vhong Navarro), Kapitan Boom (Jon Avila), Varga (Mariel Rodriguez), Tiny Tony (John Prats), and Dragonna (Shaina Magdayao).

Inthe trailer of Flash Bomba shown earlier today, January 24, on EntertainmentLive, it showed how Luis Manzano's character broke both of his legs in an accident. He became so angry at the world that he even distanced himself from his girlfriend (played by Roxanne Guinoo).

Sid Lucero's character advises Luis to search for the "gintong buhok ng tikbalang" (golden hair of a creature that has the body of a man and the head of a horse). In the original komiks of Mars Ravelo, this golden hair will give supernatural abilities to the person bearing it.

Luis starts to develop the other parts of his body to compensate for this inability to use his legs. Meanwhile, his former love is now seeing another his friend played by Sid Lucero.

Flash Bomba will fight crime soon on ABS-CBN.
ADVERTISEMENT - CONTINUE READING BELOW