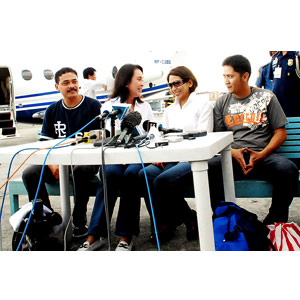 ---

Less than a year after being freed from captivity, veteran broadcast journalist Ces Drilon investigates the recent abduction of foreigner volunteers in Mindanao this Tuesday night, January 27, in The Correspondents.

Andreas Notter, Eugenio Vagni, and Jean Lacaba were taken by armed men while conducting a project for Red Cross in Jolo, Sulu last January 15, 2009. Up to this day, no word has been heard from their captors, giving rise to suspicions that this is another case of kidnap-for-ransom.

Ces, who was held captive in June 2008 for nine days with her two cameramen and a professor, will probe into the steps that the government is taking to save the lives of the kidnap victims.

Get the complete story this Tuesday night, January 27, on The Correspondents with Ces Drilon, after Bandila on ABS-CBN.