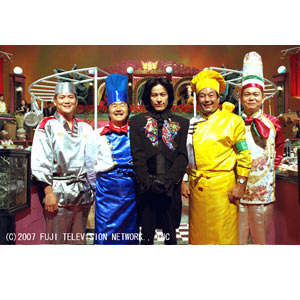 ---

Brace yourselves for gastronomic battles of epic proportion, as the Asian Food Channel (AFC) brings the cult sensation, Iron Chef, to the airwaves. In The first-ever pan-regional pay television broadcast, AFC features the latest episodes from the high stakes competition between some of the world's greatest chefs as they war against each other in the over-the-top Kitchen Stadium.

Iron Chef premiered on AFC last November 26, 2008 at 10 pm. Tune into the haywire, action-packed culinary classic on Sky Cable Channel 58.

According to Maria Brown, managing director, acquisitions and programming of AFC, "Over the last 4 years we've had hundreds of requests from our viewers to bring Iron Chef to our Channel, we have listened carefully to our viewers, and we are excited to be now finally adding Iron Chef to AFC's stable of fantastic food shows and lifestyle programming. It is a power-packed show, which appeals to a wide demographic, combining the key elements of a reality-style competition and gourmet cooking. It's a timeless production that deserves a place on the channel and an appointment to view with our millions of foodies."

Iron Chef has achieved its cult status with a global following of die-hard fans. Numerous fan sites on the Web laud the show's dramatic story lines, campy energy, and its eccentric and colourful characters. The show is so popular it has even struck a chord with chefs.

Said Daniel Boulud, Michelin star chef and owner of Daniel, New York, "It is such a riveting show and I am amazed how they create a menu of delicacies from one themed ingredient. It should be remade in Asia. I would take part!"

AFC viewers and Iron Chef fans in Asia have also written in to the Channel to express their excitement and love for the Japanese classic. With responses ranging from sheer gratitude to elation, everyone is thrilled that the show is back in its original form on the leading food channel: AFC.
ADVERTISEMENT - CONTINUE READING BELOW

Jeremy Au, an avid AFC viewer, has this to say about the show: "I love this show! Cooking drama, nail-biting action, Chairman Kaga and yummy food— what more can I ask! From now on, I'm staying home on Wednesday nights!"