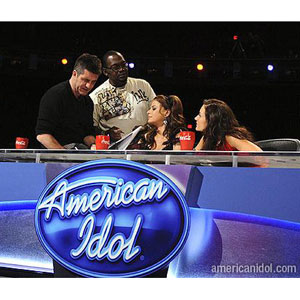 ---

147 American Idol Season 8 hopefuls gathered at the famous Kodak Theatre in Hollywood, California to compete for coveted slots to be the next singing idol. The Idol hopefuls faced the tough challenge of facing four judges instead of three during Season 8 of the reality singing competition. Judges Randy Jackson, Simon Cowell, Paula Abdul and Kara DioGuardi eagerly anticipated stellar performances from young and fresh talents from all over the United States.

More surprises are in store for all AI contestants. A first in the history of American Idol is the "Idol Boot Camp" where contestants were stylized and glammed up from head to toe for their auditions. These lucky Idol hopefuls were in for a real "treat" where they received mentoring from renowned singer-songwriter Barry Manilow. His advice: "Preparation meets opportunity." Needless to say, the AI hopefuls should work tremendously hard on their music at all times.

Day 1 of the Hollywood auditions revealed a number of remarkable talents peppered with lackluster numbers. Idol contestants took center stage in groups of 8 and were asked to perform individually. Song choice is the sole discretion of each contestant and they were judged individually.

Lil Rounds of Kansas City took center stage and belted a few lines of a Whitney Houston number "I Will Always Love You." Her performance earned her a standing ovation from Paula and Kara. "I gotta stand up for that...that was hard" says Kara. Lil's bombastic number earned her way to the next round.

18-year old Nathaniel Marshall's performance astounded Paula. When she commented, "You have beautiful vocals," he got emotional and broke down.
Anoop Desai from Kansas City remarkably has a good voice, remarked one of the judges.

Jasmin Murray from the Jacksonville audition sang spectacularly for the judges. "For me, you have raw, natural talent," Kara observed.

Kara had another face off with "Bikini Girl" Katrina Darrell. Simon and Randy gave Katrina the thumbs up to make it to the next round which did not thrill Kara at all.

The end of Day 1 sent 40 contestants packing their bags. 107 hopefuls remained to compete in the next audition round the following day. From being solo performers, the Idol hopefuls were asked to group themselves into 3's or 4's and prepare a group number. A number of hopefuls easily grouped themselves while a handful struggled to find group mates that evening. As the night grew deeper, frustration, tension and drama built up among them. With barely enough sleep, the contestants were up early, tense and keyed up for the group audition.

Day 2 was "group performance" day. Breathtaking performances and devastating cuts were the order of the show. Tension further escalated when Simon made one thing very clear: "You forget the words, you're out."

First to perform is the group "White Chocolates" composed of India Morrison, Matt Giraud, Kris Allen and Justin Williams who did an astounding performance spiced up with a mini rap act. The impressive performance secured their slots to move to the next round plus a standing ovation from Paula.

The second group "Action Squad" wasn't as favorable as "White Chocolates." "Absolute total mess...excruciating succession of horror" was the mortified comment from Simon. Heads rolled and only Alex Wagner-Trugman and Anne Marie Boskovich were left behind to move the next round.

"Rainbow Coalition's" breathtaking and harmonious acapella number was indeed a "very, very good performance" that left a favorable impact on all four judges. The members Danny, Jamar, Rogers and Taylor, all got the green light.

A sizzling number from Jeremy Sarver, Adam Lambert, Mat Breitzke and Jesse Langseth spiced up the audition hall. Kara gushed, "I loved it!" Randy thought it was "a hot performance." Paula referred to them as "incredible singers."

The drama continued as more singers were sent home.

"The Divas" composed of Rose Flack from the Utah audition, Lauren Barnes, Jasmine Murray and Bikini Girl Katrina Darrell performed next and performed badly. Simon remarked "I guarantee you did not work together." Only Jasmine Murray was picked to stay. Bikini Girl, Rose and Lauren were sent packing.

Tatiana del Toro and team mates were off to a rough, dramatic start but surprisingly, it resulted to something beautiful. They were all in perfect harmony with each other. The judges stopped them midway through their performance and told them that they will all move on to the next round. An overjoyed Tatiana was seen choked up with her emotions.

Drama seemed to be the name of the game for the trio who called themselves "Team Compromise." They tried to gel with each other despite personal clashes but they sang rather dreadfully. The judges found the performance "quite uncomfortable." They were one of the worst groups who performed. Two of them, Nathaniel Marshall and Kerstin McNamara, stayed on while "drama queen" Nancy Wilson was asked to leave.

Only 75 Idol hopefuls remained to compete in the next set of auditions. The drama intensifies next week with more heartbreaking eliminations in Hollywood.

Catch American Idol Season 8 every Wednesday and Thursday at Q Channel 11. Show starts at 6 pm with replays scheduled at 8:30 pm.


ADVERTISEMENT - CONTINUE READING BELOW