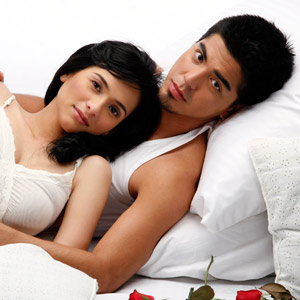 ---

GMA-7's Sine Novela offers another timeless movie classicin Paano Ba Ang Mangarap featuring the much-awaited reunion of StarStruckgraduates Mark Herras and Jennylyn Mercado.

Beginning Monday, February 16, SineNovela turns a blockbuster film of the '80s, Paano Ba Ang Mangarap, intoa gripping saga of unconditional love and destiny. The newest Sine Novelafeatures Mark Herras, who portrays the role of Eric, the movie role which wasoriginally played by award-winning actor Christopher de Leon; and JennylynMercado, who will portray the role of Lissa, then played by the Star for AllSeasons Vilma Santos.


Completing the cast of Paano Ba Ang Mangarap are versatile actors TirsoCruz III as Don Mateo, the father of Benny and Eric; Bing Loyzaga as DoñaFrancia, the brother's haughty and arrogant mother; Emilio Garcia as Ramon, theirresponsible but loving father of Lissa; Irma Adlawan, Lissa's ambitious mom;Jan Marini, the wicked sister of Lissa; Chynna Ortaleza as Maya, Eric's ex -girlfriend; Ranier Castillo as Vince; Jay Aquitaña as Ardi, Eric's bestfriends.

Directed by Joel Lamangan, Paano Ba Ang Mangarap tells the story of asimple girl named Lissa Estrella (Jennylyn Mercado) and her journey of findingher true love.

Unknown to her ambitious mother, Ising (IrmaAdlawan), Lissa is in love and is having a secret affair with Benny Valderama(Hero Angeles), a rich kid from the city whose family owns a huge jewelrybusiness and a mining company. Unfortunately, Benny gets Lissa pregnant but iswilling marry her. Benny gave her a ring, a family heirloom from his motherDoña Francia (Bing Loyzaga) as a sign of his undying love.
ADVERTISEMENT - CONTINUE READING BELOW

Benny immediately returns from the province andtells his relationship to his free-spirited and adventurous brother Eric (MarkHerras). Among the two, Doña Francia favors Benny more because he is morereserved, calculating and obedient while Eric is a brusque and carefree guy.

That night, Benny decides to use Eric's sportscar without his brother's permission. Unfortunately, Benny meets an accidentand was taken to a hospital. But before Benny dies, he spoke to his brother andmade him promise to look for Lissa.

Soon Lissa receives the news of Benny's accidentand faints. Her secret is finally revealed to her family, who were totallydisappointed.

Since her family doesn't welcome her condition,Lissa decides to travel to the city and visit Benny's wake. Lissa will musterall her strength to find the Valderama mansion and face the family of the manshe loves. She makes it to the door but when she comes face to face with DoñaFrancia, Lissa pretends to be someone applying as a maid.

Eric is on the verge of losing hope when fateleads him to meet Lissa, their maid. But Eric doesn't know that the woman hehas been looking for is under his nose. The truth was only unveiled when DoñaFrancia finds out Lissa's identity.

With the scheming Doña Francia out to getLissa's lovechild with Benny, will Eric be able to save Lissa and her childfrom his mother? With the happy-go-lucky guy Eric slowly falling in love withhis brother's girlfriend, does he have enough time and patience to wait ifLissa will reciprocate his feelings? Can Eric teach Lissa's heart and mind tolove him? With Eric around, will Lissa finally forget Benny and move on with anew life?
ADVERTISEMENT - CONTINUE READING BELOW

Find out how the power of love and destiny canpull two people together in Sine Novela presents Paano Ba Ang Mangarapbeginning Monday, February 16 on GMA-7's Dramarama sa Hapon.

Click HERE to view photos of cast members of Paano Ba ang Mangarap?