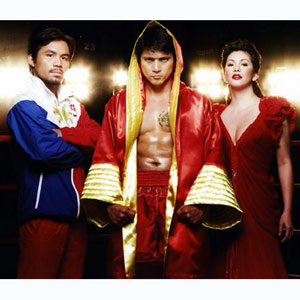 ---

GMA-7 brings to life the action-filled Carlo J. Caparas'sseries titled Totoy Bato. Beginning February 23, the unforgettable story of aPinoy boxer punches his way on the Kapuso Network's primetime Telebabad block.
After a successful and breathtaking journey in JoaquinBordado, a New York Festival finalist for the Action/Adventure category,action superstar Robin Padilla is back on the primetime block to depict theremarkable life of a boxing champ called Totoy Bato.
Totoy Bato promises to win audiences over with itsgripping storyline combined with cutting-edge action sequences and a powerhousecast ensemble. Joining Robin in Totoy Bato are Asia's Songbird RegineVelasquez, multi-awarded actor Eddie Garcia and boxing champ Manny Pacquiao.
Regine is reunited with Robin after being paired together inthe 2006 film Till I Met You. She will be portraying the role of Anna,Totoy Bato's love interest and inspiration in all his struggles. Meanwhile,multi-awarded actor Eddie Garcia, who worked last year with Robin in JoaquinBordado, will play the strict but caring coach of Totoy Bato as CoachFredo.
Totoy Bato also stars Pambansang Kamao Manny "Pacman"Pacquiao, on his first-ever drama program on the Philippine television asTotoy's close friend and trainer.
Also featuring in the program are veteran actors IanVeneracion as Miguel, the wealthy foe of Totoy in Anna's attention; CaridadSanchez as Concha, the religious grandmother of Miguel, Joonee Gamboa as Mauro,Totoy's kind-hearted uncle; Ronnie Lazaro as Podong, the ex-convict and abusivefather of Totoy; Rommel Padilla as Manuel, Miguel's brother and a syndicateleader; and Deborah Sun as Matilda, Anna's materialistic and selfish mother.
ADVERTISEMENT - CONTINUE READING BELOW
Completing the cast are Ehra Madrigal as Trixie, a guestrelations officer who will fall in love with Totoy; Jolo Revilla as Andong,Totoy's friend in the city; LJ Reyes as Gilette, Anna's cousin; Tuesday Vargasas Connie, Anna's assistant; Mon Confiado as Turko, a former military man whowill be Totoy's worst opponent in the ring; Sweet Ramos as Cecilia, Totoy's oneand only daughter; Ralph Padilla as Steve, Totoy's assistant in Manila; AraMina in a special participation as Elena, Totoy's wife and introducing QueeniePadilla as Heather, the daughter of the haciendero that will grab Totoy's land.
Joko Diaz, Daniel Fernando, Charlie Davao, Camille Pratts,Carlo Aquino, Jun Hidalgo, July Hidalgo, Ella Guevara, Carlo Lacaña, MenggieCobarrubias, and Boy Alano are also part of the program.
Totoy Bato was originally created for comics byKomiks King Carlo J. Caparas. In 1977, it became a blockbuster movie starringno less than the King of Philippine Movies, the late Fernando Poe Jr.
SYNOPSIS. Totoy Bato's television version isdirected by Mac Alejandre and Don Michael Perez. The story begins with thedreams of best friends Totoy and Anna. Anna dreams to be a popular andsuccessful singer someday. Her friend Totoy, on the other hand, only dreams ofbeing with his father. After his mother died and his father sent to prison,Totoy was left under the care of his loving uncle.
In a matter of time, Totoy's wish comes true when his fathercomes home after serving his sentence. However, problem arises when Podongturns out to be an abusive and cruel dad. Totoy's only comfort is Anna, hisbest friend and true love.
ADVERTISEMENT - CONTINUE READING BELOW
Anna, who promised never to leave his side, breaks herpromise when her materialistic mother Matilda decides to live with herbeerhouse client in Manila. Anna leaves Totoy with a promise that she will comeback for him.
Years pass and Totoy becomes a farmer and a family man. Heis happily living with his wife Elena and their daughter Cecilia in BaryoGapas. His fervent dream is to have a bountiful harvest to make ends meet andif possible send his daughter to college. Meanwhile, Anna is now a famoussinger in the country.
The quiet life of Totoy will be disturbed when a landgrabber appears and kills his loving wife Elena. Madness and revenge engulfsTotoy and he promises to fight the manipulative haciendero no matter what. Whenthe battle for the land title has won, Totoy decides to leave Baryo Gapas andstart a new life in Manila. Here he will meet people that will change his lifefor good as he faces more fights—this time in the boxing arena where he willbe known as Totoy Bato.
Feel Totoy Bato's inspiring story with its theme song titled"Ako'y Sayo" composed by Ogie Alcasid with music re-arranged by Bobby Velascoand performed by Asia's Songbird Regine Velasquez.
Be a ringside witness as the bigger and bolder fightsof
Totoy Bato
unfold beginning Monday,
February 23
, on GMATelebabad.
Click
HERE
to view photos of
Totoy Bato
cast members.