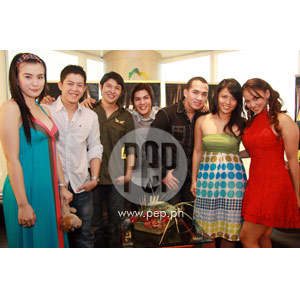 ---

The last seven Pinoy Fear Factor participantes—namelyManuel Chua Jr., Jommy Teotico, Marion dela Cruz, Janna Dominguez, SavanahLamsen, RJ Calipus, and LJ Moreno—already had a slight idea about thechallenges that were prepared for them in Argentina, South America. In a previous press conference, most of themmentioned about the stunts they saw in different versions of Fear Factorof other countries, but they are not sure if they would be able to thesethemselves.
Since the show is about to end tomorrow, three of the lastseven contestants looked back and related the most challenging stunt they did duringtheir stint in Pinoy Fear Factor.
Returning actress participante LJ said that the hardeststunt she did was the one where she became the eliminated participante. She lost her chance during the last stunt ofthe "sexta ronda de eliminacion," which was the inverted bungee stunt thatrequired her to hold her breath underwater while hanging upside down.
"Yung pinakamahirap na stunt sa kin, yung stunt that got meeliminated because yun yung fear ko eh, being under water," LJ further said.
The next eliminated participante, RJ, considered the stuntsthat involved heights as the hardest ones for him. "Ako po siguro yung sa mga heights. Sa matataas, kasi takot potalaga ako sa mga matataas na lugar," he said.
Meanwhile, Savanah lost her chance to become part of thefinal four participante when she slipped in the rotating wall stunt of theeight round of elimination.
FINAL FOUR. Before Manuel got booted out last night, February 18, because he tooktoo long in coming out from the box that was buried by sand. During the pressconference last Monday, he was asked regarding his will to win the game.
ADVERTISEMENT - CONTINUE READING BELOW
Super Manuel, his tag in Pinoy Fear Factor, said thathe would do everything to win in the reality show. "Siguro kung susukatin yung mga pinag gagagawa ko dun, halospagpakamatayan ko po kahit ano'ng ipagawa sa akin, kahit anong stunt tinodo ko,binigay ko lahat. Siguro yun pa lang pwede nang basehan kung gaano akokadesperado na makuha yung premyo."
However, the man who set two Fear Factor world recordsfailed to become the"El Ultimo Participante" in a close fightwith Janna.
Jommy, on the otherhand, said that since he was already there, he might as well finish the everystunt with whatever he got.
He explained, "Kasiyung palagi ko pong sinasabi, kahit nung una pa lang po may mga stunt na ako naparang susuko. Kaso nandun na ko eh, sotalagang umpisa pa lang nung sumali ako parang malayo, ayoko naman sumali kungmatatalo ako. So, talagang desperadong-desperado ako na makuha yung premyo,kasi yun yung goal ko eh, yun yung pinunta ko sa Argentina. So talagang kahitanong ilatag nila gagawin ko kasi andon na."
Like Manuel and Jommy, Marion was also determined to get the"El Ultimo Participante" title, thehouse and lot, and the P2 million. However, he said, he never expected that he would be able to build agood friendship with other contenders.
"Noongnagpunta po kami do'n, iisa lang po yung goal namin, manalo. Hindi po naminin-expect na magkakaron kami ng bonding, magkakaibigan talaga kami. Hindi ko poin-expect yun, kaya hindi ko rin dinamay yung kumpetisyon dahil sa mgafriendships namin."
The only girl amongthe remaining three contestants said that although she's really close to herco-participantes in El Campo Miedo, she does not think of it while they weredoing the challenges.
ADVERTISEMENT - CONTINUE READING BELOW
"Hiwalay poyung personal na [relasyon] sa laban," stated Janna. "Pag nasa laban na po kami, hindi na po kami magkakakilala,magkakaaway kami, yun nga hindi pwede kasi competition yun."
Find out who will be the next eliminated participanteas Jommy, Marion, and Janna face the second stunt of the ultimo ronda deeliminacion tonight, February 19, after Showbiz News Ngayon onABS-CBN Primetime Bida.