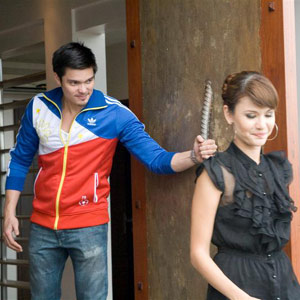 ---

The Duke hostEunice Olsen declares that Dingdong Dantes is "setting the Philippines on firewith his skyrocketing career!"

This was how the female host of the new AXN show described the male lead actorof GMA-7's Ang Babaeng Hinugot sa Aking Tadyang. The high-end lifestyletelevision magazine program aired its pilot episode on AXN cable channel lastFebruary 9 with Dingdong as the first "Duke" introduced on the show.According to their definition, a Duke is a man in control of his life, someonewho is driven and has a big dream to achieve success in life.

Wearing a Philippine flag-inspired jacket, Dingdong himself toured Eunice inhis 300 square-meter bachelor's pad, which was featured extensively in theOctober 2008 issue of YES! Magazine. "I have to congratulate you becauseyou have been chosen as the Top 25 Sexiest Men in the World," says the formerMiss Singapore.

How does it feel to be placed third after UK soccer player David Beckham andArgentinian actor Michael Gurfi? "I haven't seen the whole feature yet," admitsDingdong. "But I've been told that they put me in a good spot."

The Filipino actor is joined by Enrique Iglesias, Johnny Depp, and other hunkymen chosen from all over the globe. (Click HERE to read the complete list of E! Television's Top 25 Sexiest Men of the World.)

Eunice then showed a cute photo of Dingdong when he was still a toddler. "Youstarted modeling when you were very young, how old were you then?" He says hewas seven years old when he started being in the limelight.

"My parents supported me from day one. They had no qualms about me being anactor. That makes it so much easier. They saw the passion and the enthusiasm sothey supported me," says Dingdong with a smile.

Dingdong and Eunice continued their tour around the house as they discussed theactor's collections of paintings and toys. She curiously asked Dingdong how hemade the transition from being a model to being an actor.

"I guess from modeling since my early years, I already had a calling for it.It's really in me, you know? I enjoy it! In fact, when I was starting, I did itfor free."

What is the most fulfilling part of being an actor? "It's when I come acrosspeople who tell me, 'Hey, I watched your show and it's the only show thatbrings our family together.' There was this one person who told me that one ofmy shows was the life of his mother because she got hooked on the show. Shewatched it everyday and when the show finished, she passed away a few daysafter."

Dingdong sums up: "These kinds of comments give me high morale."

After spending some time indoors, the two of them went outside to see and takea ride on Dingdong's favorite toy: a bright yellow, two-door Bumblebee car.


STAYING POWER. For the second half of the episode, Eunice had a sit-downtalk with Dingdong to ask him regarding the secrets of his successful career.How do you stay away from all of these [intrigues]?

"You can't stay away," says Dingdong matter-of-factly. "You just have to facethem coz that's part of your life...to be under public scrutiny. You just have tostand up for what you believe in."

How did he manage to stay ahead of the game for the past years? "Maybe I justmanaged to reinvent myself. I was just free-spirited. Just be yourself. Ifpeople like you for who you are, then thank you. People love personalities whoare easy to approach and I can relate with. I believe I have some of thosetraits."

The former beauty queen put the Pinoy actor on the spot by asking him, "Howmuch of your success is attributed to your good looks?"

"For one, I don't really consider what I have...I don't want to think I'msuccessful yet because once that gets into my head, it will automatically stopme from dreaming more. But it's not just about the looks, it's the personalityand more importantly, it's the talent."

Is there a certain image that you have to live up to? "In all my endeavors, Ipresent myself as myself. Who I am on camera, more or less is the same me."

Eunice asked Dingdong to enumerate the qualities that could possibly make a mana "Duke." He replied by saying, "He should have his objectives, he should makethem clear, make them straight. He should not step on anyone's toes. It may notbe easy but it's a fun ride."

Aside from Eunice, the other hosts of The Duke are Marc Nelson andRovilson Fernandez.
ADVERTISEMENT - CONTINUE READING BELOW