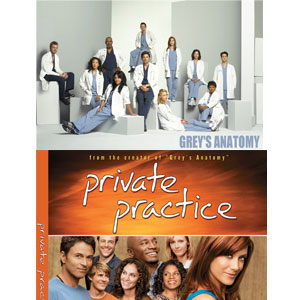 ---

Two of television's biggest drama series, Grey's Anatomy and Private Practice, join forces to give you four exciting episodes where doctors of Oceanside Wellness Center crossover Seattle Grace Hospital. Get them on Studio 23 this Monday, February 23.

In this highly anticipated interlinked offerings which soared high in US ratings, Addison (Kate Walsh) decides to take his ailing brother Archer (Grant Show) to Seattle Grace after he suffers a severe seizure to be treated by one of the best brain surgeons in the world—former hubby Derek "McDreamy" Sheperd (Patrick Dempsey).

This quest to save Archer's life will reunite the former attending surgeon with Sloan and the rest of her old colleagues in the hospital.

Izzie (Katherine Heigl), on the other hand, employs her fellow doctors in a medical game designed to help teach interns and Owen runs into a significant someone from his past.

Meanwhile, after these intense crossover episodes, Studio 23 also brings you four never before seen episodes of Dirty Sexy Money ahead of the U.S. beginning March 1 and the thrilling eight season premiere of CSI starting Saturday, February 28.

The twisted story of the Darling clan continues in DSM with Nick (Peter Krause), Brian (Glenn Fitzgerald), and Karen (Natalie Zea) finding themselves aboard the family's private jet bound to a common destination with different goals—Karen wanting to have a baby; Bryan wanting to rekindle an old flame; and Nick wanting to take back his son. While on board the plane, a life-threatening experience forces Nick to admit his feelings for Karen.

As for Gil Grissom (William Petersen) and the rest of the CSI team, time is running out as they race against time in search of Sara (Jorga Fox) who was kidnapped in the gripping cliffhanger from season 7. Their only clue to her whereabouts is a mysterious miniature that shows Sara trapped beneath a flipped red mustang somewhere in the deserts of Las Vegas.

Don't miss these jam-packed offerings on Studio 23. Watch Private Practice, Sundays at 8:30 PM followed by Dirty Sexy Money at 9:30 PM; Grey's Anatomy, Mondays at 8 PM and CSI every Saturdays at 8 PM.

ADVERTISEMENT - CONTINUE READING BELOW