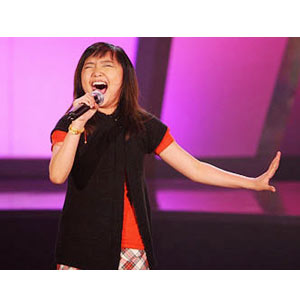 ---

Due to insistent public demand, Studio 23 replays the special episodes of Oprah featuring international young diva Charice Pempengco from March 18-20 at 5:30 PM.

Witness how this phenomenal girl first caught the attention of America's queen of talk Oprah Winfrey with her remarkable rendition of Whitney Houston's hit "I Have Nothing" this Wednesday (March 18).

A personal invitation, on the other hand, prompted Charice to burst into tears when her idol Celine Dion requested her to have a duet in her concert in New York City. Watch her dream slowly unfold before her eyes in this episode airing on Thursday (March 19).

Lastly, relive Charice's shining moment and first ever performance with the sensational world-renowned diva on Friday (March 20) as they sang Celine's very own hit "Because You Loved Me" before a jam-packed crowd at the Madison Square Garden. Celine personally chose the song so that Charice can dedicate it to her mom who stood by her through highs and lows.

After you get an overdose of Charice-mania, get your daily dose of anime action with Studio 23's anime block.

Watch your favorite anime heroes battle the forces of evil in Inuyasasha 3 at 6:30 PM, and Samurai X at 7:30 PM. The adventures of vampire slayer Saya Otonashi is also coming your way as the Kabarkada network premieres Blood P+ (Blood Plus) on March 23, Monday 7:30 PM.

Blood+ is an anime set in modern-day Okinawa where Saya Otonashi is an athletic teen leading a happy home life with her adoptive family. However, she struggles daily against memory loss that prevents her from remembering anything before one year ago. After Saya meets Hagi, a mysterious cellist, the pieces of the puzzle begin to unfold when he bestows a Japanese sword upon her. Saya doesn't understand the role Hagi plays in her destiny, until a blood-sucking chiropteran attacks her adoptive brother Kai and Saya is forced to fight for his life. With the help of Hagi, Saya rediscovers her past and embraces her role in battling the onslaught of chiropteran vampires that has plagued Japan for centuries. Set to music produced by Hans Zimmer, Blood+ is based on Blood the Last Vampire, the sixth-best selling anime of all time in the United States.

Meanwhile, if you're after some dose of romance and comedy, just follow Candy's complicated yet funny love story in the hit Mexican series Las Tontas airing weekdays at 10:00 AM. You can also get a hold of the original Korean version of phenomenal series My Girl beginning Monday (March 23) at 1:00 PM.
ADVERTISEMENT - CONTINUE READING BELOW