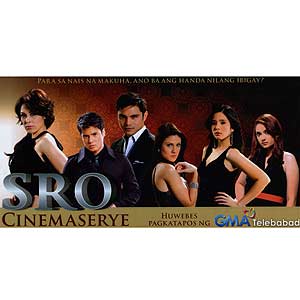 ---

Former teen stars Maxene Magalona and Geoff Eigenmann step out of teenybopper roles in their newest TV project, the firstpresentation of SRO Cinemaserye called"Ganti ng Puso."
The said show is an eight-part weekly drama anthology thataims to showcase the flexibility of Kapuso celebrities. Every Thursday night, the talents of GMA Network will be put on the spotlight to offer Pinoy viewers the cinematicquality of a real motion picture on television.
In "Ganti," Maxene will play the role of Eloisa,the secretary of a hotel mogul Viola Ojeda (Sheryl Cruz). In the sneak preview shown to the media, she flirts with actor Marvin Agustin—surprising most viewers who attended the press launch of the show held recently.
Maxene said that this show is a good medium for her to stepout of her "sweet image."
"Okay lang kasi from UnaKang Naging Akin (2008), may something similar sila," Maxene said about hercharacter in the show. "I really like itlike that, na gradual 'yong transition, hindi biglaan. Here, it's similar to what I've done in Una Kang Naging Akin except that medyomay pagkakontrabida ang role ko pero with a heart, hindi niya talaga alam kungsaan siya lulugar.
"Ganun pa rin kahit mature. Magugulat pa rin kayo. I reallylike surprising people pa rin naman. Gusto kong ipakita kung ano ang kaya kong gawin para naman magustuhan ngmga tao."
She also said that SROwill be a good opportunity for her to discover something new about herself.
"Everyone looks into me always like a baby and sweetheartganyan. I really wanted to grow anddevelop into something else. Hindi namansobrang sexy talaga, but then, I want to step away from what I missed doing inthe past. Gusto ko naman i-explore kungano ang kaya kong gawin."
Like Maxene, Geoff Eigenmann also thinks that playing therole Kevin Rodriguezin SRO is the most mature role he has done in his career.
ADVERTISEMENT - CONTINUE READING BELOW
"This is, I can say, the most mature role I've everdone. I can say na I graduated na fromall the teenybopper stuff. I've donemature roles, but this, to date, is the most adult. Most mature kasi it's a very deep character,very deceiving, very conniving, marami siyang tinatago, marami siyang hinanakitna gustong ilabas."
He added that SROalso became a challenge for him to improve his acting skills. "It's very different," said Geoff. "I guess, dito na talaga dumarating talaga'yong challenge of being an actor. Kasi,each day, each role is very different and it should be different kasi you'reonly good as your last role."
Completing the cast of "Ganti ng Puso"are Bianca King, Arci Muñoz, and Daria Ramirez under the direction of DominicZapata.
A VENGEFUL STORY. Ganti ng Puso is a story entwined byforces of deceit, love, and vengeance. Each character, Geoff said, "is actually connected with everyone."
There's Jacob Manansala (Marvin Agustin), a man with a firmdesire to claim what's rightfully his. He's willing to fight tooth and nail for the riches taken from hisfather.
Then, a mother named Viola Ojeda (Sheryl Cruz) goes allout to achieve her hard-fought dreams. She selfishly chose to abandon her child for a more comfortable andproperous life.
Geoff plays the role of a son who wickedly schemes for powerand wealth. His ambitious ploys forprestige will drive him to fiendish revenge.
Meanwhile, Viola's assistant/protégé Eloisa (MaxeneMagalona) conspires with Jacob to plan her boss's downfall. While the plastic surgeon girlfriend of Kevinnamed Janelle (Bianca King) supports all his plans.
Lastly, there's also Adella (Daria Ramirez), who is theadoptive mother Kevin and Annie (Arci Muñoz).
Catch the pilot episode of this eight-part drama onThursday, March 26, after Fated to LoveYou on GMA-7.

Click HERE to view photos of SRO Cinemaserye cast members.
ADVERTISEMENT - CONTINUE READING BELOW