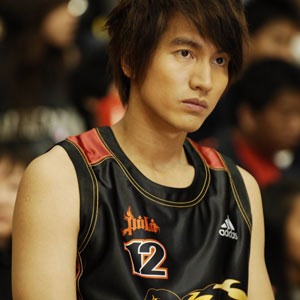 ---

The battle to be the greatest player has yet tobegin...

Onewill prove he's still the best. One will challenge the best to get the ultimatestardom. One will make his way to the top.

Whoamong Asia's hottest heartthrobs will claim hardcourt supremacy? Find out inthe highly anticipated premiere of Taiwan's biggest and most expensive drama titled Hot Shot.

Forthe very first time, Hana Kimi's lead hunk Wu Chun, multimedia superstar ShowLo and Asia's Ultimate Heartthrob Jerry Yan (of Meteor Garden fame) will join forces to give you anexciting series jam-packed with romance, comedy, and hard court action.

Ina school where academic studies reign supreme and sports are relegated to a dustycorner of the campus, Zyrene (Coco Jiang) vows to revive the basketball team bybecoming the head coach. She recruits random students for her team and one ofthem is Andy (Show Lo), a country boy who is passionate for basketball but hasno skill. Li Ying's hope went into high gear when Cody (Jerry Yan), a legendarybasketball player, transfers to their school.

Thetwo will make a great tandem in the hard court but what if something (or rathersomeone) gets in the way of their friendship? Andy will fall for Cherry (ZhouCai Shi), a girl who reminds him of his childhood friend and the same girlCody's heart is beating for.

Thingsheats up even more when Tyrone (Wu Chun) enters the scene and do everything hecan to beat Andy and Cody.

Bothcampus cagers can surely win the game of hoops but how will they fare in thegame of love?

Don'tmiss the intense premiere of Hot Shot this Monday, March 30, 5:15 PM in Hapontastic before Pinoy Bingo Night onABS-CBN.