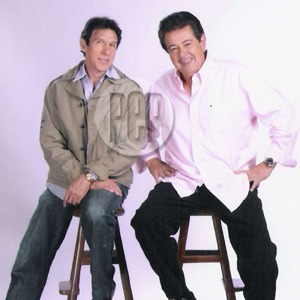 ---
SolarEntertainment and RPN-9 present an original TV sitcom about the misadventuresof two half-brothers who grew up in worlds apart but are forced to live underone roof to fulfill their father's dying wish.
Dalawang Tisoy starsveteran actor Eddie Gutierrez as PocholoDela Rosa and former senator and basketball idol Freddie Webb as hishalf-brother Jack. Pocholo is a stiff, conservative guy who grew up with hisSpanish mother while Jack is his complete opposite—a laid-back dude and sportsbuff that grew-up with his American mother.
Their personalities are very different from each other but they mustlearn to get along for the sake of their beloved father. Upon arrival at theirhouse to carry out their father's dying wish, they are greeted by Mimi, their father's strict caregiver played by Dexter Doria, with heryoung ward, Kim Chee (SandaraPark), who is her younger sister's daughter with a Korean.
Also included in the cast of Dalawang Tisoy is TV actress-beautyqueen Melanie Marquez who plays the role of Diana—an English teacher by day and a bar manager by night. Sheis in charge of the Happy and Gay Bar,owned by the father of Pocholo andJack. Meanwhile, Vince Saldanais the love interest of Kim Chee and is willing to go through a lot of trialsfrom her adoptive fathers (Pocholo andJack).
Join and enjoy the company of the Dalawang Tisoy as they go through mishaps and wackymisadventures every Thursday at 8:30 to 9:30 p.m. starting March 15 on RPN-9. This sitcom is directed by AlQuinn and produced by Joy Florendo.