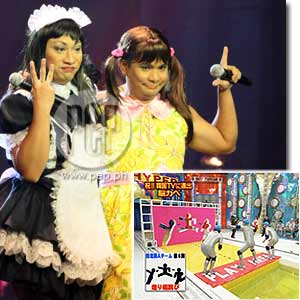 ---

The much-talked about Japanese game called Brain Wall or Human Tetris will soon be seen on Philippine shores! Filipinos will soon be tested for their agility and flexibility via the GMA-7 show Hole in the Wall.

This is a franchise produced by FremantleMedia, the same company behind American Idol. It was originally launched in Japan in 2006 and it is now being screened in 16 territories, including Australia, Russia and Denmark.

Considered to be a big hit among YouTube fans, the game involves participants who must contort their bodies to fit precut walls moving toward them on a track. If the participant doesn't fit through the indicated shape, he/she is pushed off the track into a pool of water below.

The Philippine version will be hosted by Bubble Gang mainstays Ogie Alcasid and Michael V, who play the funny tandem of Yaya and the bratty child Angelina.

Hole in the Wall will premiere on April 20, 2009 in replacement of Family Feud, which airs right before 24 Oras.


THE SPOILED BRAT. GMA Films President Annette Gozon-Abrogar already mentioned to PEP (Philippine Entertainment Portal) that the funny tandem of Michael V and Ogie will be seen on the big screen for the movie The Spoiled Brat.

(Click HERE to read related story.)

As early as now, teasers for the movie are already being shown featuring the cat-and-mouse fights of the nanny and her hard-to-control ward. It will be co-produced by GMA Films and APT Entertainment.