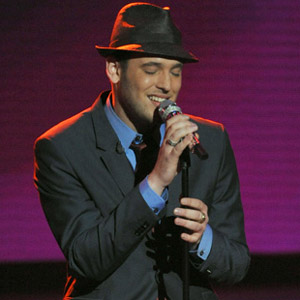 ---
The "Rat Pack" eracertainly evoked romantic and sentimental strains of the 1950s and 1960s. Thisweek in American Idol Season 8, the top 5 finalists were given the opportunity to do theirown interpretation of timeless standards. The guest mentor for this week wasmulti-awarded actor and singer Jamie Foxx.

Looking dapper in his suit,Kris Allen crooned a favorite standard "The Way You Look Tonight." Randythought it was his "best performance to date." Kara believed that Kris is"truly a dark horse in the competition."


Allison Iraheta's did aclassic take on "Someone to Watch over Me." Paula found her performance"alluring and tender." Simon commented, "It's a great performance. I have ahorrible feeling that she will be in trouble tonight.

Matt Giraud was third inline and performed "My Funny Valentine." Simon was quick to note that itwas a "believable, authentic song. Absolutely brilliant." However, Karathought she didn't feel "emotionally connected well together to the song."

Danny Gokey conquered thestage with "Come Rain or Come Shine" and impressed the judges immensely. Randyremarked, "he can sing and can make an album with those kinds of songs. " Karagawked at Danny and claims that he has the "rat pack swagger. It wasunbelievable." Danny's song act was a "stellar performance" for Paula.

Adam Lambert shoulddefinitely feel good about his song choice, "Feeling Good," since the judges certainlyappreciated it. Simon thought Adam made "the best entrance of the year"and Randy said Adam is "in the zone. Another good performance."

First-rate performancesfrom the "unforgettable" Natalie Cole who sang "Something's Gotta Give," TaylorHicks from American Idol Season 5performed "Seven Miles Breakdown and Jamie Foxx brought his own sparks to theshow.

Matt Giraud, Kris Allen andAdam Lambert were in the bottom three this week. Two weeks ago, the judges "saved" the piano player when he landed in the bottom three but this time, American voters booted out Mattwho garnered the lowest viewer votes.


With Matt Giraud gone, the four remaining contenders—Kris, Adam, Danny andlone female Allison—will compete against each other for "Rock n Roll" week with Slash in nextweek's competition.
ADVERTISEMENT - CONTINUE READING BELOW

American Idol Season 8 airs on Q Channel 11, Wednesdays andThursdays, 6:00 p.m., via satellite, with replays at 8:30 p.m. on the samenight, and on weekends, at 5:00 p.m.