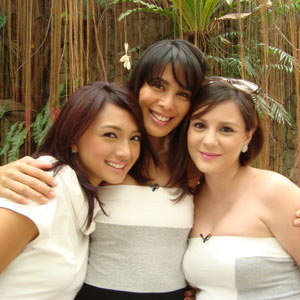 ---
Mothers deserve the best,especially on their special day. Join the fabulous and fun Us Girls hosts IyaVillania, Angel Aquino, and new girlfriend Megan Young as they pack theirpre-Mother's Day episode this Sunday (May 3) with fashionable surprises for thenumber one woman in our life.

Watch Megan's very first UsGirls episode turn into a mother and daughter ultimate bonding experience asthe young star treats her mom to a spa and massage treatment.

Expectant mother CheskaGarcia-Kramer also gets an unexpected gift from her friends as they conspirewith Us Girls to give her a surprise baby shower! See our very own hosts getoverjoyed in this celebration of motherhood.

Meanwhile, Urbanzone's DaphneOseña-Paez brings us inside her own abode and lets us take a look into her 24-kgold room. Our eyes will surely glow with the beauty of this gold mine.

Also, don't miss our fashionand styling tips that will surely turn any mother into a hot momma.

Celebrate Mother's Day in stylewith your favorite girls Iya Villania, Angel Aquino, and Megan Young on UsGirls this Sunday night (May 3), 7 pmon Studio 23.