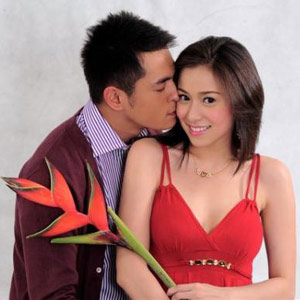 ---
ABS-CBN business unit head Laurenti Dyogi recalls that hewas in Europe when he first read a pocketbook romance novel.

"Someone handed me a book during Pinoy Big Brother in Europe," saidDirek Lauren during the general press conference of Precious Hearts Romancespresents Bud Brothers. "We made a tie-up with publisher Jun Matias andhopefully, we will have a long partnership since Bud Brothers will runfor 13 weeks."

He added: "We really wanted to try something new on non-primetime television.We also hope to discover new tandems and use that for television or in themovies."


For this reason, most of the love teams in BudBrothers are new pairings such as the first episode called "Stupid Cupid"starring Jake Cuenca and Cristine Reyes.

Expect the following love teams to bring romance to weekday afternoons startingtoday: Mariel Rodriguez-Rafael Rosell, Valerie Concepcion-Will Devaughn, WendyValdez-Joem Bascon, John Prats-Denise Laurel, Ahron Villena-Maricar Reyes,Janna Dominguez-Manuel Chua, and Roxanne Guinoo and new singer-actor GujiLorenzana.

According to pocketbook writer Rose Tan, Bud Brothers is actually basedon real life friends who put up a flower farm ten years ago. "Nag-attempt silana mag-open ng flower farm sa Lipa, Batangas pero naging busy sila sakanya-kanyang career kaya napabayaan. Naisip kong gawan ng storya ito peropinaalam ko naman sa kanila."

Precious Hearts Romances has been entertaining Filipino readers for thepast 18 years. Aside from producing Bud Brothers for television, ABS-CBNhas also expressed interest in producing the Kristine series written byMartha Cecilia.


SYNOPSIS. Bud Brothers is a collection of eight interconnectedlove stories all written by Rose Tan. The TV series revolves around collegefraternity brothers who put up their own business, called the Bud BrothersFlower Farm, and the quirky yet gorgeous women these men will fall for.


Jake andCristine star as Vince and Georgina in "Stupid Cupid," which will begin airingtoday, May 4.


Pio (Ahron Villena) is the one mainly in charge of the BudBrothers Flower Farm.When he decides to marry his long-time girlfriend Sandy (Maricar Bautista), Piocalls on his Bud Brothers to come to his wedding. But the ceremony that issupposed to be the culmination of Pio and Sandy's relationship will turn out tobe the beginning of a journey to love and self-discovery for the members of theBud Brothers.
ADVERTISEMENT - CONTINUE READING BELOW
Inthe pilot week, get to meet Vince (Jake Cuenca). He gets a big surprise whenhis college sweetheart Georgina (Cristine Reyes) shows up with a baby girl.Georgina asks Pio's help for a place to stay in until she figures out a way tofend for the baby. Pio agrees to help, but at the same time, he seizes theopportunity to play a joke on Vince.
Thinkingthat he had moved on from his breakup with Georgina, Vince is shocked to findhis ex in the shower. As the two start to live under one roof, unresolvedissues from their past relationship are dug up again, and they begin to getinto each others' nerves. But while Vince and Georgina think that there is noway they can live closely with one another, they also realize that being apartis much harder. Vince and Georgina will try to deny their feelings, afraid thatthey may end up hurting each other again. But they will later learn that loveis really sweeter the second time around.
Inthe story of "Betsy, Wow Golly Wow," Mariel Rodriguez is cast as Betchay, aquirky applicant for the secretarial stint in the flower shop. Rafael Rosell isWayne, a bachelor who hires Betchay to be his wife. Will this pretend love turninto his preferred life?


AhronVillena and Maricar Reyes are Pio and Sandy, a lovely couple who oversee thetravails and perks of the blossoming young love and budding maturity of the BudBrothers while facing their own trials in the greatest test of love--to startoff from a 'happily ever after' fantasy to a 'still happy after' marriedreality.
ADVERTISEMENT - CONTINUE READING BELOW
WillDevaughn and Valerie Concepcion will bring a different taste of kilig andexcitement in "Once in a Lifetime Love."Monty, the indecisive lady's man amongthe boys, will fall in love with the seductive Isabel (Valerie Concepcion).
In"He's the One," Manuel Chua is Ed Lacson, the pretty boy model who could luremen and women alike. His biggest challenge is to allure rival flower shop ownerHiromi (played by Janna Dominguez).
GujiLorenzana and Roxanne Guinoo get together for "Pepper's Roses." Ray is a seriousand artsy band frontman while Pepper is an artist who loves children and art.They are actually childhood friends who have a mission to patch things upbetween their parents. They soon discover that their true mission is to fall inlove.
John Prats will tickle funnybones via his character named Carlo in "Funny Love." He isthe real life Mr. Congeniality and the Bud Brothers' part-time lover, full-timeclown. He is paired with Denise Laurel who is cast as Coco. She is a grievingwidow who moves away from home in search for peace but discovers a new love.
Thestory of "Pete and Tammy" will be portrayed by Joem Bascon and Wendy Valdez.Pete is a mama's boy who relies on fate and his mother when it comes to makingdecisions. Upon meeting Tammy, he must learn to grow up and be a man for hisloved one.

Enjoy watching Precious Hearts Romances presents Bud Brothers weekdaysright after Kambal sa Uma on ABS-CBN.