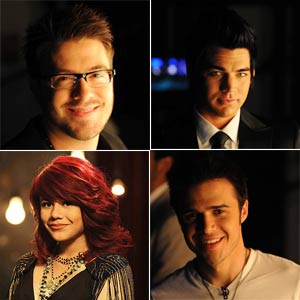 ---
Matt Giraud, 23, from Kalamazoo, MI was eliminatedfrom American Idol Season 8 after he received the fewest of America's more than47 million votes. His "Rat Pack" rendition of "My Funny Valentine" by ChetBaker did not give him a spot on the top four.

This Wednesday, May 6, 6:00 p.m., on Q Channel 11, the Top 4finalists—Kris Allen, Danny Gokey, Allison Iraheta and Adam Lambert—willreceive advice from guest mentor Slash and then take the stage to perform rocksongs.

On performance nightThursday, May 7, 6:00 p.m., on Q Channel 11, find out which three finalists will move onestep closer to becoming the next American Idol. During the live results show,No Doubt will perform and Daughtry returns to the IDOL stage to debut "NoSurprise," the first single from their forthcoming album.

American Idol airson Q Channel 11, Wednesdays and Thursdays, 6:00 p.m., via satellite, with replays at 8:30p.m. on the same night, and on weekends, at 5:00 p.m.