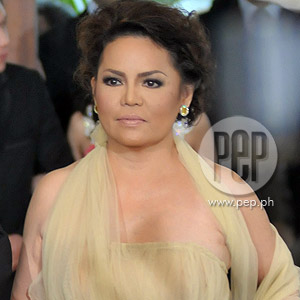 ---
Bing Garcia, the mother of celebrity siblings Patrick and Cheska Garcia, faced Showbiz Central's Intriga Crossfireto defend her son Patrick regarding the controversial issuesfacing him today. She also expressed her joy on daughter Cheska's pregnancy andupcoming childbirth.

Host Pia Guanio informed Bing that Patrick recently said in aninterview that there was a possibility that he would court Glaiza deCastro. Does Bing approve of Glaiza?

"Actually we never judge whoever our children like," said Bing,"kasi ang ano namin diyan, e, hindi naman kami ang the one who's gonnalive with the person. It's their lives. We are just here to advise, butthen, if they don't wanna take it, e, ok lang."

When asked if Patrick was ready for another relationship, Bingsmiled and said, "I don't think so. He is never ready. His olderbrother, he is already in his thirties and he is still single."

Has she and Glaiza met?

"No," laughed Bing. "I have not met her and just found out about it also on television."

Mo Twister then greeted Mrs. Garcia and asked,"Palapit na ang concert ni Jennylyn Mercado. Sakaling i-invite ka toattend yung concert, would you go to Jennylyn's concert?"

"I'm sorry but I have to beg off," said Bing. "Kasi, first of all,sabi niya, 'No communication,' and she has moved on and everything. Wehave moved on. It's better that way."

Satisfied with the answer, Mo handed the reins to Rufa Mae who askeda simple question to Bing. "Pag naririnig mo ang pangalan ni Jennylyn,in one word, ano ang masasabi mo?"

Bing smiled and answered, "Enigma."
When asked to explain, Bing said that Jennylyn was plain mysterious."You don't know what's on her head and you don't know what's gonna comeout of her mouth..."

Does Bing think that the Jennylyn-Patrick split did any good for them?
ADVERTISEMENT - CONTINUE READING BELOW

"No offense sa fans nila, pero I think nakabuti sa kanila becauseyou see, mga tao kasi they have different degrees of immaturity, sosila, I don't think they're ready. Kung natuloy sila, I think it'sgonna come out sa hiwalayan. Buti na ang ganito para wala na masyadoma-involve even as it is. Pabalik-balik lang."

On a lighter note, how is Cheska's pregnancy doing?
"Confirmed yung apo ko kay Cheska," smiled Bing. "Because there is asaying na kung sino man ang mapangasawa ng anak mong babae, e, apo mopa rin yun. Pag sa lalaki, e, you can never tell. Only the mother whocan tell kung sino ang baby niya. Well si Cheska, she's very muchpregnant and she is getting bigger by the day. We're looking forward.They have this movie made and you can see the baby from the womb andeverything."

When is Cheska's due date?
"She's giving birth by Caesarian section," Bing revealed. "She's giving birth this June 25."