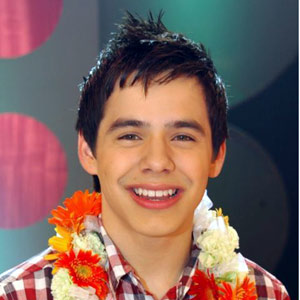 ---

American Idol Season 7 runner-up David Archuleta broughtthe house down when he performed live on the GMA-7 morning show SIS earliertoday, May 14. For the finale of the show, he performed "A Little Too Not Over You," the second single released from his self-titled debut album.

Singers from theKapuso Network serenaded him with their interpretation of David's own songs andAmerican Idol hits like "Crush," "Long andWinding Road," "And I AmTelling You," "Angels," and "Touch My Hand."


Harry Santos, Kyla, Renzo Almario and Pocholo Vizmonte, and La Diva (composed by Aicelle Santos, Jonalyn Viray and Maricris Garcia) paid tribute to the 18-year-old singer.
David narrated thathe started to sing at the tender age of six. "First thing that got me intomusic pretty much was when I watched the 10th anniversary tour of LesMiserables. I was 6 and I couldn't stop watching it!"
The first song helearned, also from Les Miserables, was "Castle on the Cloud."
He also considersKelly Clarkson, American Idol Season 1 winner, as the most influentialperson in his life. "She's one of the people I really admire and look up to,"he said.
One of the mostawaited finale nights in the history of the American Idol was the battleof the Davids wherein his namesake, David Cook, emerged as the winner AmericanIdol Season 7.
Despite of his lossin the past AI season, David has become a popular singer not only in the United States but other countries as well.


A native of Utah, David was known for his pop ballads throughout theshow. In August 2008, he released his first single, Crush, from hisself-titled debut album. It ranked at No. 2 on its first release at the BillboardTop 100, beating Rihanna's Disturbia. As of March 2009, theself-titled album that was released in November 2008, sold over 690,000 copiesacross the United States.


IMPRESSED BY FILIPINOS. David revealed that he is a huge fan of JasonMraz, along with his other favorite performers Michael Jackson, Stevie Wonder,John Mayer, Natasha Bedingfield, Natalie Cole, Mariah Carey, and a lot more.
ADVERTISEMENT - CONTINUE READING BELOW
"These people have animpact on me. I love music!"
David is also fondof Philippine mangoes. "Yeah, I love mangoes. I ate two of them this morning."
After hearing Kyla'sinterpretation of his song, David exclaimed, "Filipinos are so good andamazingly talented!"


And after Pinoy Pop Superstar balladeer Harry Santos sang his piece,David quipped, "It's like, I feel stupid being here now. It was like, oh mygosh, why am I here?"
He described theKapuso singers as "perfectly harmonized."
David then thankedthe Pinoy fans who warmly welcomed him in his first visit in the country. "I'm like so amazedby, like how many fans are right here. Thank you guys so much! It's been greatso far and I'm really excited on Saturday!"
A lot of youngpeople look up to David but the 18-year-old singer said that this was not planned. "It's really cool.It's not like I was trying to be a role model. You just have to be yourself!"
"Knowing that,trying to, you know, trying to be a good person even though I'm weird andstuff. It's good to know that it helps kids and you know, to see that they areinspired to music."
GIFTS FROM SIS.
During the latter part of the show,
SIS
hostsCarmina Villaroel, Gelli de Belen, and Janice de Belen presented their gifts toDavid. When he opened oneof the gift boxes, David thought it was a shirt but it turned out to be a Barong Tagalog designed by Pepsi Herrera.
Miniature Filipinosymbols like a jeepney, an ice cream cart, a Juan dela Cruz figure wearing abarong Tagalog, and a tiny nipa hut and a coconut tree inside a bottle werealso given to him.
ADVERTISEMENT - CONTINUE READING BELOW

David Cook and David Archuleta Live in Manila!
will be held this Saturday,
May 16
, (8 p.m.) at the SM Mall of Asia OpenGrounds, Pasay City. Tickets are available at all Ticketworld and Ticketnetoutlets.