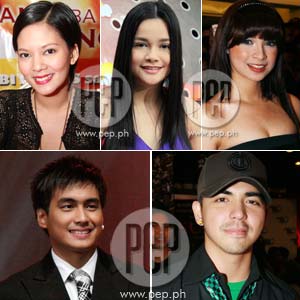 ---
Audition Celebrity Dance Battle, the firstTV dance contest based on the popular online dance game, is set tolaunch on May 17 on GMA-7's Sunday musical variety show S.O.P.

George Royeca, VP for X-Play Online Games Inc., the companybehind Audition Celebrity Dance Battle, said this bold new move is partof the direction of the company to bring its titles mainstream.

"Audition Dance Battle is all about the music, fashion, and fungame play which mirrors S.O.P.'s exciting musical and dance numbers andthe fashion trend the show sets. They absolutely complement each otherwhich is why going mainstream via S.O.P. is an almost natural thing todo. We are excited for Audition Celebrity Dance Battle and happy thatGMA-NMI and GMA Network are giving their full support for this," said Royeca.

Kapuso stars who were chosen to participate in the dancebattle have already begun their strenuous training and practice. Thelist of participants includes Mark Herras, Chynna Ortaleza, RainierCastillo, Ryza Cenon, JC Tiuseco, Yasmien Kurdi, Vaness Del Moral andDominic Roco.

Jason Tomas, Audition Dance Battle Product manager said thatAudition Celebrity Dance Battle is actually similar to one of thegame's dance modes, Couple Mode, where players compete with otherplayers in pairs. They will also be performing popular Audition DanceBattle dance moves.

"Audition Celebrity Dance Battle will be a guaranteed hit forour online players and the show's avid followers. It's like bringingthe game into the real world with a celebrity cast to boost. So expectthe Audition Dance Battle players who are 2 million strong and countingto watch this unique event," he pointed out.

The winning pair will receive P100,000, fifty percent of whichwill go to X-Play's charity partner, IP Foundation. The healthcareprogram of IP Foundation is administered in collaboration with FamilyVaccine and Specialty Clinics, which operates the largest chainof privately run vaccination clinics in the Philippines, with 30clinics across 17 provinces nationwide. Each celebrity pair willsponsor one FVSC clinic.
ADVERTISEMENT - CONTINUE READING BELOW

Scores will be based on the judges' vote, 50% and via SMS or text voting, 50%.

For more information, visit www.clubaudition.com.ph.