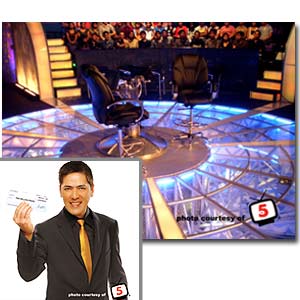 ---
When Christopher de Leon was still hosting Who Wants tobe a Millionaire on IBC-13, Vic Sotto says that he kept close watch on thegame show.

"Fan ako ng show. Avid viewer ako, e," says Bossing Vic. "You know what's funwith it? Alam mo kung ano ang maganda sa Who Wants to be a Millionaire,kahit nanonood ka lang, you get to participate. Nakakasagot ka. Saka maymultiple choice. Yun ang maganda dun. Yung multiple choice, nakakapili ka doon,pwede kang chumamba, and you as a viewer, you get to cheer, you get to cheerthe contestant, di ba?"

Given his affinity for the show, Vic Sotto did not hesitate to become the hostof this game show, which now finds a new home in TV5. It will air its pilotepisode of May 23, 2009 at 6 pm. WWTBAM is expected to last fortwo seasons on TV5.

Vic points out: "I believe Who Wants to be a Millionaire started it allsa new breed of game shows. Ito yung original na nagpamigay ng one million[pesos]. Everybody followed but of course, as they say, the original is alwaysthe best. And for me, it's still the best game show ever."

Did he talk with Christopher de Leon prior to accepting this hosting job inTV5?

"Hindi naman kasi they have a bible. Technically, they have the camera shots,naka-drawing na talaga, susundan mo na lang yon. Kung meron mang renovation kayDirek Bert de Leon, Kailangan i-approve pa rin ng mga British representatives."


Were TV5 executives inspired to do mount WWTBAM again because of thepopularity of the movie Slumdog Millionaire?

"Oo, sa katunayan, the idea came up from the TV 5 people to get the franchisebecause of the success of Slumdog Millionaire. Ang producer [ng movie]yun ang producer din ng Who Wants to be a Millionaire."

Given the chance, would he produce a film that has a similar plot to SlumdogMillionaire?
ADVERTISEMENT - CONTINUE READING BELOW
"Yeah, why not? It's a good movie. It's an eye-opener forthe Western audience. Parang na-shock sila sa nakita nilang ganun, e. Tayosana'y tayo sa ganun, e. Ang difference lang, mas makulay lang yung sa kanila[India] kaysa yung sa atin. Yung mga damit nila makulay, sa atin puro nakahubadlang. Puro mga flesh at kulay brown. Hindi ganun ka-cinematic."



MECHANICS. Based on the original British format,contestants coming from all over the Philippines will compete to get on the"hot seat" to which the ascent to the seven-digit jackpot begins byanswering 15 multiple-choice questions correctly. Traditionally, Who Wantsto be a Millionaire? is a general knowledge game show that sets offchallenges, suspense, and a 1 million cash prize. But in the edition of TV5,the show escalates it to a P2 million jackpot prize, making the contestantseager and excited as the questions eventually reach higher levels ofdifficulty.
Staying loyal to its original format, contestants areprovided "Lifelines" in the form of 'Ask the Audience' at which theaudience key in their answers, '50/50' wherein two wrong answers are eliminatedfrom the choices, and the 'Phone a Friend' option.
For its pilot episode this Saturday, May 23, WhoWants to be a Millionaire? has invited celebrities who want to become amulti-millionaire. Other game shows will usually feature only one or twocelebrities as contestants, but to welcome the comeback of this game show onPhilippine TV, it will be a star-studded premiere with celebrities Ara Mina,Polo Ravales, Assunta de Rossi, Rafael Rosell, Manilyn Reynes, Jay Manalo,Megan Young, Gladys Reyes, Nadia Montenego and Mo Twister—all vying to get onthe "hot seat" and go face to face with Bossing Vic.
Find out who among these celebrities will have the chance toincrease the "money tree" and reach the P2 million cash prize.

Watch Who Wants to be a Millionaire? starting off the Weekend Winnersprimetime belt and shaking your Saturdays every 6 p.m., only on TV5.
ADVERTISEMENT - CONTINUE READING BELOW