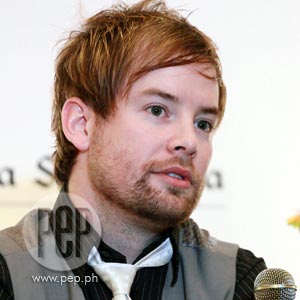 ---
American Idol Season 7 winner David Cook entertained Filipino viewers when he performed his hit single "Always Be My Baby" at GMA-7's noontime show Eat Bulaga yesterday, May 15.

Just like David Archuleta whoperformed in the Kapuso Network's high-tech Studio 7, David Cook's presence was enough to make Pinoys fill the Broadway Studio to capacity.

The 26-year-old singer expressedhis gratitude for all his Filipino fans. "I have to say, the time that Archieand I have spent here so far, you guys have been absolutely amazing. Thank youso much!" Even if they had a tight battle last Idol season, he still considers the younger David as one of hisbest friends.

He revealed that he talked with fellowAmerican Idol Season 7 opponent and Filipina-AmericanRamielle Malubay. She asked him to give her regards to her kababayans.

When asked about his opinion onwho would be the next American Idol winnerbetween Adam Lambert and Kris Allen, he said, "Either one of them,'cause they would have to face Simon [Cowell]. Either one, either one."

David C. is excited to perform ina crowd of "tens of thousands of people," as EB host Pia Guanio put it.

"I'm absolutely excited for wheneverybody comes out. Really, really, really. Everyone's coming, right?" Heasked the mob with a smile.

If David Archuleta is falling in love with Philippinemangoes, the other David likes to try the Filipino delicacy balut.


David Cook and DavidArchuleta Live in Manila! will be held tonight, May 16, (8 p.m.) atthe SM Mall of Asia Concert Grounds, Pasay City. Tickets are available at allTicketworld and Ticketnet outlets.