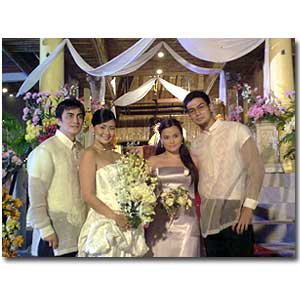 ---
Dear Friend delivers the third offering of itssummer specials featuring a touching drama in "Madrasta." This Sunday afternoondrama is slated to premiere on May 17.

Thefour-part episode of "Madrasta" is topbilled by GMA-7's DramaPrincesses, Yasmien Kurdi and Iwa Moto. Both are products of the first batch ofthe GMA-7 talent search StarStruck.Completing the cast are Gary Estrada, Marco Alcaraz, Kevin Santos and DangCruz.

Withdirector Jay Altarejos at the helm, "Madrasta" tells thestory of two women whose lives are intertwined by shades of intrigue, personalambitions and resentment.

Iwaplays the role of Gellie who is often misjudged as a flirtatious, easy to gettype of girl by her schoolmates. Unknown to them, Gellie is trying to cope withher harrowing experience as a battered girlfriend.

Duringthese trying times, she finds comfort in the arms of Arnold (Gary Estrada), theowner of the school where she studies. On one occasion, Shiela (Yasmien) chancesupon Gellie talking to Arnold and immediately gives the wrong impression thatGellie toys with older men. She brands Gellie as a gold-digger.

Gellieand Arnold start seeing each other and despite their age differences, they fallin love instantly. However, things get complicated on the day of theirengagement. Gellie discovers that Shiela is Arnold's daughter, her formerclassmate who spread the false rumors about her.

Willthis revelation ignite the feud between the two women? How will Shiela deal andaccept the truth that Gellie is the new mistress of her father? Will Gelliefind peace in her heart?

Don'tmiss Part 1 of 4 "Madrasta" episode of Dear Friend this Sunday, May 17, right after S.O.P. on GMA-7.
ADVERTISEMENT - CONTINUE READING BELOW