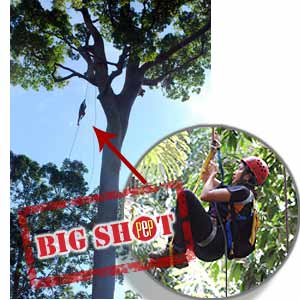 ---
This Monday, watch Kara David scale the tallest tree in Southeast Asia. TheManggis tree, called by the Palawan natives as "Ginoo" or Lord, earned its namedue to its majestic height that reaches an average of 250 feet, taller than theGMA Network Building.

Towering over the tree canopies of Thailand, Malaysia, Borneo, Sumatra andPalawan, the Manggis' immense height and slippery bark serves as protectionfrom predators, making it a favorite nesting place for several bird speciesincluding the hill myna, blue-naped parrot and Philippine hornbills. However,this has not stopped P'lawan natives from poaching the hatchlings of thesebirds and illegally selling them.

The natives' participation in the illegal bird trade started around 40 yearsago with the lowlanders' incursion in the tribal communities. Lowlandersbrought along with them sugar, coffee, cigarettes and other goods in exchangefor native products like woven baskets, blowguns, honey and rootcrops. Up tonow, the barter trade is still being practiced in the area. It is this simpletrade that got some lowlanders started on the exploitation of the natives,convincing them to use their climbing skills to poach for hatchlings of uniquebirds and sell them in the cities as pets. Kara David shows us how the nativesclimb the tree's crown with the ingenious use of the "yantok" or rattan.

Kara also introduces us to some of the natives who became victims of thisexploitation. She meets Pula Mindas, who learned to scale the Manggis treesfrom his father. He claims it was the lowlanders who told his father to poachfor the bird trade. Today, he is one of the best poachers in his village. Hegets P50 to P300 per hatchling, depending on the species. What he doesn't knowis that the birds cost a lot more when sold in the cities, with prices rangingfrom P1,500 to P5,000.

Intol Tingkisan used to be a poacher but has since stopped after witnessinghis nephew plunge to his own death while climbing the Manggis tree. Intol nowearns from the salary he receives as warden for a foundation that hasestablished a reverse to protect the birds against poachers. However, despiteefforts of some NGOs and a few government institutions to stop the traders, theillegal bird trade continues to flourish, putting more natives' lives indanger.
ADVERTISEMENT - CONTINUE READING BELOW

Award-winning journalist Kara David exposes the dangerous lives that theP'lawan natives face in her documentary "Climbing the Manggis," airing thisMonday midnight on I-Witness, after the late night newscast Saksi on GMA-7.