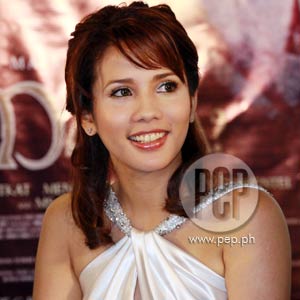 ---

Karylle appeared on the May 17 episode of TheBuzz to answer ten of the toughest questions she's faced so farin showbiz. The singer looked nervous albeit excited at the questions about to be thrown at her.


However, host Ruffa Gutierrez—who was the interviewer for this time—startedout with a not-so-tough question. She asked, "I-rank mo ang most to the leastimportant: Kagandahan, Kayamanan, Kaligayahan ng puso."

Smiling, Karylle gave a little laugh and answered, "I thinkkasi ang kaligayahan ng puso, e importante iyon. So, yun ang number one."
So what's the second?
"Kagandahan na lang," laughed Karylle. Still in a jokingmood, she added, "Kasi pag maganda ka naman maraming dumarating na project...Tapos kayamanan!"

The second question for Karylle in fact was a package oftwo. The first question was: When was the last time she felt giddy about a textmessage? The second (and probably most important) was from whom did it comefrom?

A flushing Karylle admitted, "May nakapanood doon sa ginawako sa ASAP tapos...siguro kilala niyo siya."

Does the guy's name start at the letter J?
"Kailangan ko pa ba sabihin?" smiled Karylle.

Ruffa laughed and said, "Si Jericho iyon!"
Getting no reaction from Karylle's side, Ruffa added, "Si Jerichonga siguro dahil hindi siya nag-deny!"


OVER DINGDONG.The third question was related of course, to matters of the heart. HasKarylle moved on definitely and finally this time from her breakup with DingdongDantes?

Karylle gave a little smile and said, "Actually ang bagokong single is 'Almost Over You' and every time I sing it sa mga malls, parangsabi ko na buti ito na lang ang single. Dati kasi ang single ko 'I'll Never GetOver You.' So sabi ko sana nag next single para naman masabi ko na patapos na,di ba?"

After her answer, Karylle proceeded to explainthat she was almost at the finish line of getting over him.
ADVERTISEMENT - CONTINUE READING BELOW

Since Karylle was almost over "him," is she now ready tofall in love again?
"Hindi," answered Karylle. "Actually I asked myself thatquestion kasi especially noong birthday ko na parang everyone kept wishing nasana ma-in love ka and it always seems like na puwede na, pero I don't want tobe fair naman to somebody na I would call my boyfriend na hindi ko naman siyatotally na mabigay ang heart ko."

When asked what kind of guy she wanted, Karylle dreamilyanswered, "Gusto ko iyong matalino. I am not saying na sobrang nerd—but veryopen sa learning, at hindi sarado ang isip and somebody na I can learn a lotfrom. Somebody who makes me feel like, 'Ang ganda ng aura mo.' Pag dumating ka,parang umaaliwalas ang paligid dahil lang sa nakikita niya sa iyo."


KISSING SCENE AS REVENGE?Karylle's latest movie Litsonero shows her having a kissing scene with co-star Paolo Contis. Since Paolo and Dingdong are best friends, how can Karyllepermit that she kiss Paolo?

"Actually matagal na ito, e," explained Karylle. "Matagal naitong movie scene and I think at that time we were still together. It's worknaman siguro. Hindi ko naman siya ginawa like, parang ang labas sa tao, e 'Revengeba 'yan?' Something like that. Siyempre it's for work!"

Litsonero will be screened in select cinemas starting May 20, 2009.


That said, Karylle moved on to answer the fifth question,which was: Would Karylle choose a loyal man or an honest man?

"Nakakalito naman yun," admitted Karylle. "Siguro yung liarkung kunyari, you're having a bad hair day tapos sabihin niya na 'Angganda-ganda mo.' Yun, ganoon lie okay lang. Siguro ano na lang, loyal."

News has it that Karylle is being admired by guys inLondon. What is her say on this?
"Actually my show kami sa London," laughed Karylle. "Hindiko alam, e."
ADVERTISEMENT - CONTINUE READING BELOW

Is she open to dating foreigners?
"Huwag naman," said Karylle. "Ayoko ng date ng date, perogroup date okay lang. Hindi ko pa kasi nagagawa ang blind date."


ON MOMMY ZSA-ZSA.The next question for Karylle now concentrated on her mom, Zsa-Zsa. The questionread: If there were anything Karylle would be sorry for to her mother, whatwould it be?

"Siguro in the past, my time na hindi ko matanggap ang mganangyari so she would always be writing to me and calling me tapos hindi kosinasagot tawag niya—and for that, I am sorry."

So are the two of them okay right now?
"Oo," said Karylle. "It was quite a childhood thing... I wentthrough all the family healing thing and okay na ngayon. One of the bigindicators na everything was going to be okay was when we went to Amanpulo forour first bonding trip with my two sisters Zia and Nicole. Para siyang paradiseand heaven. Sabi ko nga sa mga tao na kung naging sad childhood mo, si God pagbumawi siya, He'll give you everything."

The second to the last question gave Karylle an unexpectedstart as it refocuses on Dingdong Dantes. Ruffa asked, "Kunyari nakaharap mo siDingdong Dantes, walang ibang tao. Ano ang una mong gagawin at sasabihin sakanya?"

Karylle bluntly said, "Wala na, e. Siguro kamustahin kolang. Before kasi we used to talk about our dreams and goals, so I'll just askhim on far along he is in reaching his dreams."

"I've already made my peace with him and everything thathappened."

Well that kind of answer definitely deserves a finalquestion laced with something—or someone—connected to Dingdong right now:Marian Rivera. If Karylle were to see Marian right now, what would she say?

"For me, nakausap ko na siya before," said the singer-actress. "Andthat was that. I said things that I had to say and I said all of it and itended there. For me kasi, whatever I had to tell her, I told her so okay na."
ADVERTISEMENT - CONTINUE READING BELOW