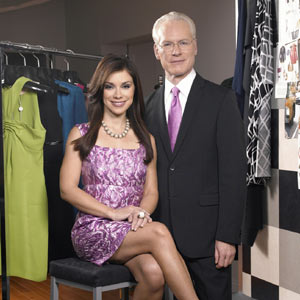 ---
This May, fourteen guys and gals are offto one tough and emotional Hawaiian reunion with their former classmates in theseries High School Reunion 4 (HSR 4). This dramatic reality series airs every Monday at 8 pm on ETCbeginning May 2009. HSR 4 keeps track ofthe flashbacks, truths, relationships and rivals of former classmates from the 1987 graduating class of J.J. Pearce High School inTexas, as they are reunited after 20 years.

Relationships, rivals andrevenge raid the scenic island of Maui as the alumni arrive. Ms. Popular,Deanna, is first to reach the destination, followed by the rest of the gang—Glenn (the geek), Cheryl (the outsider), Jason (the bully), Justin (the pipsqueak), Kat (the lesbian), Kirstin (the spoiled girl), Lana (the drama queen), Matt (the jock), Mike (the rebel), Rob (the stud), Sean (the millionaire), Steve (the backstabber) and Yvette (the girl next door).

Also back on ETC on Wednesdays at 10 pmstarting May 2009 is Tim Gunn's Guideto Style 2, a one-hour reality television series that transformsfashion-challenged women into gorgeous inspirations with perfect signaturelooks.

In the second season of this show, TimGunn is joined by a new accomplice, fashion expert and stylist, Gretta Monahan.This reality series newbie has been a trendsetter and a style influence tomany, especially being the owner of hip fashion boutiques, a salon & spa aswell as a studio in NYC that offer world-class beauty services and professionalstyling for VIPs. Tim and Gretta'sskills join forces as they take women to an arduous but rewarding journey onfinding the right flair that fits their lifestyle. With a perfect blend of passion, skill, style and humor, thesefashion gurus are definitely committed to helping one couture-challenged womanmakeover herself one episode at a time.

Catch ETC on Skycable ch. 16, Destiny cable ch. 30, and Cable link ch. 48.