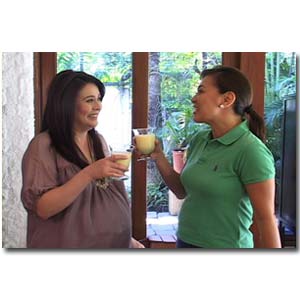 ---

Motherhood is one of the most importantphases in a woman's life but how sure are you that you are ready to becomeone when the time comes?

Find out this Saturday (May 23) in a mustsee episode for soon-to-be moms on Wonder Mom with anchor Karen Davila.

Learn straight from actress Dawn Zuluetaas she shares to Karen her experiences as a mother and as a politician'swife. Dawn underwent a delicate pregnancy at age 36 and at seven monthsshe had to give birth prematurely to her first son Jacobo. Find out whatshe's going through now that she's 7 months pregnant with her secondchild.

Karen also gives you the lowdown on whatare the top 10 essential things that mommies should buy for their newbornbaby and how you can prep up your babies rooms. Bulilit guest host ChaCha Cañete (from the phenomenal Bulilit commercial of Camella Homes) willhelp Karen pick out items from a baby store that can be used to accessorizea nursery.

Lastly, know the common problems facedby pregnant women and learn how to go about it as easily as possible. Becauseof hormonal changes during pregnancy, women experience different changesphysically and mentally thus resulting to headaches, unusual craving forfood, stretch marks, swollen nose, morning sickness, back pains and manymore.

Don't miss all these this Saturday (May23) in Wonder Mom, when it airs at 9:45 am on ABS-CBN.