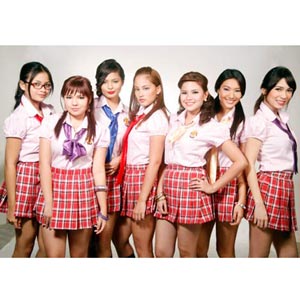 ---

Lipgloss, TV5'steen-oriented show, becomes even more exciting and interesting as itenters its fourth season.
Joining the show arenew cast members Lovi Poe, Enz Guazon, Rhen Escano, Benj Besa, Cherry AnnKubota and Regine Angeles. The six fresh additions will complement the mainstays of the show: Maxine Eigenmann, Louise delos Reyes, Kevin Lapena, Nico Ibaviosa, CharinaSuzara, Carlo Gueverra, Neil Coleta, Jesa Mendoza and Zyrus Desamparado.
Lipglosspromises to be more exciting as new twists and turns involving the characterswill shape the show's latest chapter. New rivalries will emerge as well asbudding romance, particularly that of Lovi's character Princess Ava and Edge(portrayed by Kevin Lapena).
A grand Santacruzanserved as season four's curtain raiser. The plot will right away thickenas the rivalry between Abby (Maxine Eigenmann) and Charlene (Regine Angeles)heat up with the introduction of Knox (Benj Besa).
Another highlight ofthe show, which is sure to catch the interest of the viewers, is the chicuniforms of the students of Linden High, which is reminiscent of the ones wecommonly see in Asian telenovelas.
"Lipgloss started the TVfad of bright and sexy school uniforms emulated by other teen shows and it willcontinue to do so with the coming season along with a hip soundtrack," said theproducers.
Directed by CrisaldoPablo and Aleah Eugenio, Lipglossairs every Saturday starting May 23 at 5:00 p.m. The youth-oriented show is part of TV5's SabadoPanalo weekend primetime offering.

Click HERE to view photos of Lipgloss cast members.