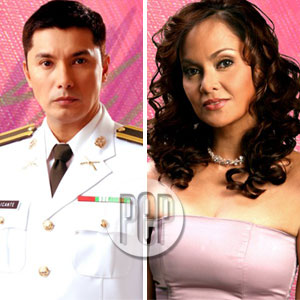 ---
How do you turn back time on a love lost? Is it possible tofall in love with someone who hurt you completely years ago? That is thequestion facing Jo Espero (Eula Valdes) this week when Col. Leo Alicante(Albert Martinez) comes back to her life on ABS-CBN's Maria Flordeluna,airing right after Maging Sino Ka Man on ABS-CBN Primetime Bida.
Leo and Jo's love story has always been a complicated one,but now that Leo is determined to bring Jo back into his life, Jo seemspowerless to resist. After all, she has already bonded with Leo's children Flor(Eliza Pineda) and Reneboy (Nash Aguas). But with Flor also single-minded inher belief that Jo is the person who will heal the damage wrought by Elvira'suntimely and tragic death, Jo doesn't stand a chance.
What Flor doesn't see is that Jo's entry into their familymay bring more damage than it seems. First, there is the fact that Reneboy isunhappy with the idea of anyone "replacing" Elvira-even his beloved Teacher Jo.Second, there is also the fact that Jo will also be bringing along herself-centered daughter Wilma (Kristel Fulgar) and her greedy, avaricious motherBrigida (Liza Lorena).
What will life become for Flor, Reneboy, Jo and Leo afterthe wedding? Will they ever have the chance to become the real family that Florwants them to be? Find out this week on Maria Flordeluna, Mondays toFridays on ABS-CBN Primetime Bida.